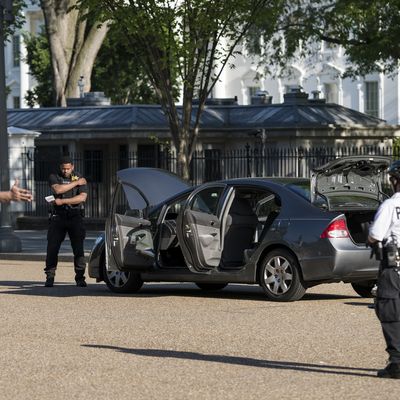 Secret Service agents surround the car on Pennsylvania Avenue.
Photo: BRENDAN SMIALOWSKI/AFP/Getty Images
The White House was locked down for about an hour on Tuesday after a car followed a motorcade carrying Sasha and Malia Obama through a security checkpoint at 17th Street and Pennsylvania Avenue. Secret Service agents stopped the car at around 4:40 p.m. and arrested the driver, 55-year-old Mathew Evan Goldstein. He's been charged with unlawful entry. Goldstein has a pass for the Treasury Department, which is next to the White House, and it's unclear if he made a wrong turn or was hoping no one would notice that a Honda Civic was escorting the presidents' daughters.