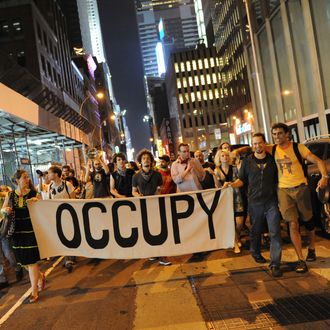 Photo: Stephanie Keith / Demotix/Corbis
Cecily McMillan may be the last and most famous of the Occupy Wall Street defendants, more than 2,500 of whom were arrested in connection to the protests, with most of the charges dropped or dismissed. One of the few who went to trial, the 25-year-old was found guilty today of assaulting a NYPD officer and faces up to seven years in prison when she's sentenced on May 19. Until then, McMillan will be held without bail.
Supporters from the Occupy movement crowded the courtroom throughout the trial — the #JusticeForCecily hashtag also took off on social media — and erupted into a chant of "shame, shame, shame!" when the verdict came down. At least two people were forcibly removed, the Guardian reports.
The McMillan trial represented a flash point in the still-tense relationship between police and the protesters who gathered in Zuccotti Park. On the night of the six-month Occupy anniversary, prosecutors said McMillan purposefully elbowed an officer in the face as he led her out of the park by the shoulder; she claimed she was the one who was assaulted.
"I remember her saying to someone: 'Are you filming this? Are you filming this?' Then I remember the defendant crouching down and lunging with her elbow and hitting me in the face," said the officer, Grantley Bovell, who also "repeatedly cited the wrong eye when testifying in front of a Manhattan grand jury."
At trial, the jury saw the incident in grainy video footage, which shows the blow but not what came before it:
McMillan claimed that the reaction was instinctual after someone grabbed her right breast from behind, and had photos to prove it:
"This is the smoking gun in the case," her lawyer, Martin Stolar, said. "She got grabbed and she hit. That's an accident." McMillan said she then had a seizure or panic attack and was treated for PTSD:
But assistant district attorney Erin Choi argued that McMillan's account was "so utterly ridiculous and unbelievable that she might as well have said that aliens came down that night and assaulted her."
"She wanted to pull the wool over your eyes," said Choi. "That's how she benefited from this nonsense. She wanted to become the face of Occupy Wall Street."