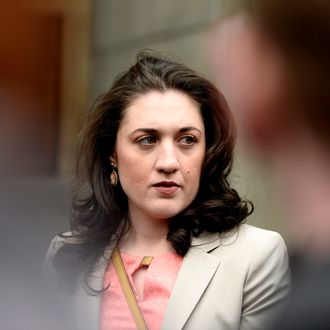 Photo: Andrew Gombert/epa/Corbis
Facing up to seven years in prison — and expecting at least two — activist Cecily McMillan was sentenced this morning to just three months, including the two weeks she's already served, for hitting a police officer in the face during the Occupy Wall Street protests. "A civilized society must not allow an assault to be committed under the guise of civil disobedience," said Justice Ronald Zweibel. However, "The court finds that a lengthy sentence would not serve the interests of justice in this case," he said. She will also be responsible for community service and five years of probation.
McMillan's became the single most watched case of the Occupy Wall Street arrests as most of the 2,600 people arrested during the protests had their charges dropped or settled without jail time. McMillan fought because she says she only swung her elbow back at the officer's face involuntarily, after he grabbed her breast.
"Non-violence is my core," she said prior to sentencing. "It's my anchor."
As for taking the case to trial, "I feel like your dignity is the only thing that is worth it," she explained. "The morals that you set up for yourself are the only things that can't be taken away."