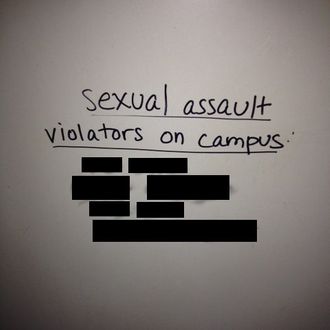 Amid federal complaints "charging systematic mishandling of assault claims and mistreatment of victims" at Columbia University and Barnard — not to mention that horrifically misguided sexual assault cake — someone on campus is taking action. Multiple times over the last week, the school's bathroom stalls have been covered with lists of "sexual assault violators" and "rapists on campus." Columbia is promptly having them scrubbed.
"We were alerted to bathroom graffiti in Hamilton Hall, and Public Safety investigated," Daniel Held, the executive director of communications for facilities, told campus publication the Lion. "Graffiti is routinely removed by Facilities staff."
But more lists keep popping up, and not just on the walls. Bwog reports that "rape list flyers" have appeared in bathrooms, as well. "The first list, written May 7 in a women's stall in Hamilton, had each name in a different hand-writing and pen color, suggesting that it was written by multiple contributors," according to the blog. Names have been censored — the Lion confirms that the four people on the original list are Columbia undergrads — but that's much more difficult to do on campus.
For a taste of how polarizing the issue is at the Ivy, for once we advise you to check the comments.