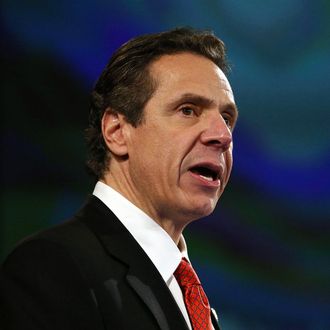 Photo: Spencer Platt/Getty Images
Andrew Cuomo is a lawyer, a proud 1982 graduate of Albany Law School. He has served as New York's top lawyer, as state attorney general from 2006 through 2010. But Cuomo is at heart, and has always been, a politician.
That's why, two weeks ago, when questions were raised about the governor "interfering" in the work of the Moreland Commission's investigations of legislators, Cuomo responded with a blunt verbal shrug: "It's my commission," he told the Crain's editorial board. "I can't 'interfere' with it, because it is mine. It is controlled by me."
It was never a secret that the governor viewed Moreland's existence as a necessary realpolitik tool to pressure the legislature, which has repeatedly killed meaningful ethics reform. And when Cuomo won some of what he wanted — the State Senate and Assembly adopted stronger anti-bribery rules and greater financial disclosure as part of the state budget deal — he dropped the very big stick he was waving.
Unfortunately for the governor, Preet Bharara apparently has a different interpretation of where the legal and political lines should be drawn. The U.S. Attorney has subpoenaed the records of the anti-corruption commission that Cuomo disbanded in late March.
Besides following up on leads developed by the commission regarding possible criminal conduct in the legislature — cases that were already being referred to other prosecutors — Bharara seems interested in allegations that Cuomo-connected officials manipulated Moreland's work. Bharara's curiosity could also stir up more tension between Cuomo and Eric Schneiderman, the current state attorney general, who shared some operating responsibility for Moreland.
The commission's structure, by law, permits the governor to play a large role. So Cuomo could have done things that look ugly while being perfectly legal. But whatever Bharara turns up, or doesn't, Cuomo must deal with the political headache of a publicity-friendly prosecutor digging through emails during a reelection campaign, and raising questions about whether Cuomo's means justify his ends.
The governor and the U.S. Attorney are essentially having an argument about what's fair in hardball politics. Bharara, though, can conduct part of the discussion under oath.