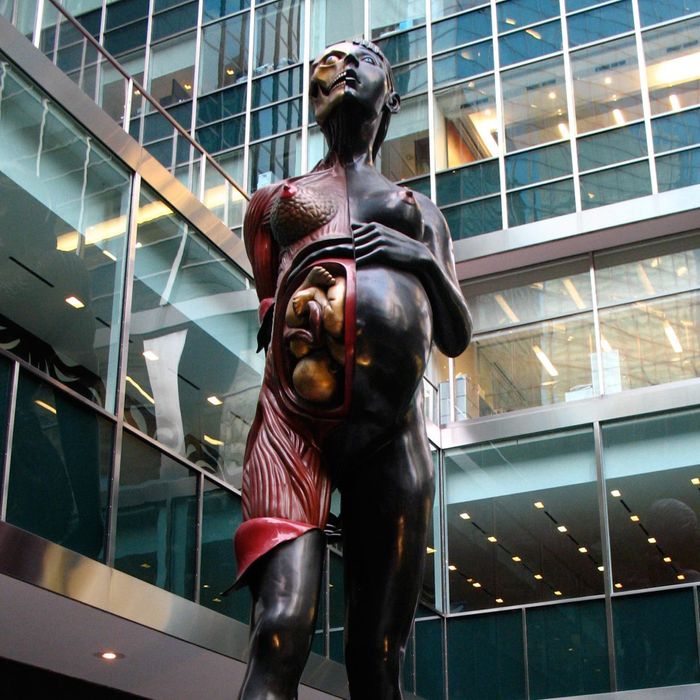 Once named New York's most expensive suburb, Old Westbury, in Nassau County, is not used to 33-foot-tall anatomy lessons from a world-famous artist. Damien Hirst's The Virgin Mother is currently on display at the estate of Aby Rosen, a real-estate mogul, much to the consternation of his neighbors and village mayor Fred Carillo, who says, "It's out of character with the neighborhood." For now, it's been draped in a cover, Newsday reports.
"We have to appease the residents, they have to preserve their bucolic views. The question is, does it belong in Old Westbury? Does it belong on a residential property?" Carillo asked, his mind seemingly made up already.
The piece, according to Hirst, references Degas's Little Dancer of Fourteen Years and "is kind of naughty; she shouldn't really be pregnant. I wanted a feeling of that. Anyone who is pregnant looks old enough, that's the problem."
But because we're talking about wealthy people with little better to do, those complaining are citing arcane rules about building permits, fence-height restrictions, and board approval instead of just saying that they're prudes. It's like every neighborhood association fight ever, except more expensive.
Carillo, problem solver that he is, suggested the statue be "pocketed into a hill," or at least turned "in such a way that the graphic portion faces Rosen's house and not the residents." That way they can just pretend the icky part doesn't exist.