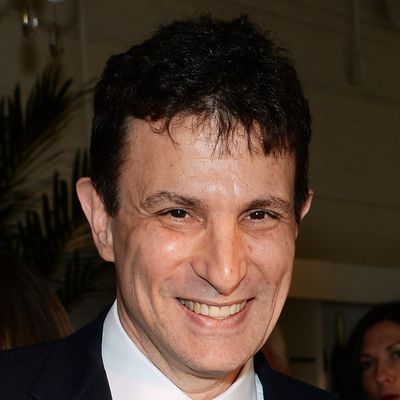 Photo: Dimitrios Kambouris/Getty Images
Father, editor, writer, occasional TV presence — David Remnick is a well known workaholic. But how does the The New Yorker boss unwind? Intelligencer heard he's been relaxing with a six-string lately, so we asked him how it's going at last night's annual PEN American Center Literary Gala. "I take lessons," Remnick confirmed. "Why are you asking me about this?" Genuine curiosity! And the man's appreciation for classic rock is no secret if you've read, say, his 16,000-word profile of Bruce Springsteen from 2012.
"What am I playing now? I'm playing 'Autumn Leaves,' which is a jazz standard," said Reminick last night. "And I'm playing a couple of Grateful Dead tunes, I'm ashamed to say."
Shame, of course, is not very rock 'n' roll. "So they're very goofy songs," Remnick said, "but they're very tricky." (He also published an epic Grateful Dead story — is there any other kind? — by Nick Paumgarten in 2012.)
Remnick said the hobby is something of a throwback to his teens and twenties, but that it fell by the wayside for more important career concerns. "My wedding present from my wife was a Stratocaster. And soon after – this is more than you want to know, but you asked – soon after we got married, we went to Moscow and guitar playing was forgotten. I don't even think we brought that guitar."
But picking it up again has been a great stress-reducer. "I play really so that there's at least some period of the day when I'm not reading and writing, reading and writing, reading and writing," he said. "It's a great escape." The lessons, though — also not very rock 'n' roll. "My musical hero is Bob Dylan, but I wouldn't take guitar lessons for that reason." Times change.