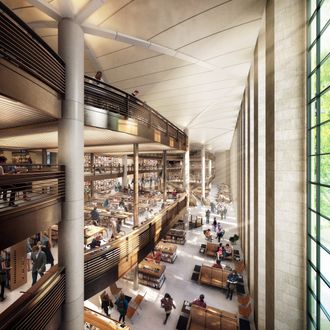 Not gonna happen.
Photo: Rendering by dbox/Foster + Partners
When the New York Public Library backed away from its plan to strip the antique stacks out of its Fifth Avenue flagship and replace them with a circulating library, a sigh of relief was heard in the literary land. I sighed, too, but with exasperation. A chorus of writers is celebrating a disaster averted; I'm mourning a missed opportunity.
The fight over the Central Library Plan was waged in volleys of red herrings. Scholars howled that millions of volumes would be shipped to New Jersey, and that their research would have to wait until the books they needed could be trucked back. Instead, almost all the books have been moved into renovated vaults beneath Bryant Park, just a quick conveyor-belt ride from the reference desk. Protectors of quiet worried that the desire to convert offices into new public spaces would disturb the building's academic hush; that's going to happen anyway. Others fretted irrelevantly that the library was going digital and devaluing its holdings of ink and paper. Preservationists (including the late critic Ada Louise Huxtable) warned that the plan would eviscerate the library's century-old, then-innovative engineering, since the iron stacks were designed to double as structural supports. Now, for the foreseeable future, the stacks will sit vacant and unused, so that the building's empty half will hold up the other half– not exactly an efficient use of resources. Meanwhile, the mid-Manhattan branch, which was supposed to move into the recovered space, will suffer through a multiyear renovation instead.
The library handled the whole sad epic in a way that never inspired confidence. In December 2012, Norman Foster tried to win over skeptics with a half-baked design that simply sowed more panic, and then went back to his laptop to come up with something better. I haven't seen the result, but my colleague Paul Goldberger apparently has, and he reports in a tweet that it is "better, but not enough to matter." Foster was paid $9 million for his troubles. We'll never know whether a truly worthy design — by Foster or anyone else — for a circulating library inside a great historic building might have closed the deal.
In the end, the plan's demise was a matter of money: The cost of holding up the roof while the stacks are removed, then transferring the load to a new system, became prohibitively high. (How high, the library still won't say.) That's fine — new figures require a fresh look. But when arithmetic and realism produce disappointing news, that doesn't make the decision a moral victory for all those who care about books.