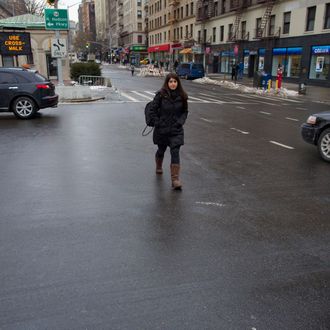 At 96th and Broadway.
Photo: Craig Ruttle/AP/Corbis
This should not be controversial: When the light turns green and you step off the curb and into a crosswalk, a car should not whip around the corner at the same time, causing your body to crumple and snap. If that does occur, it shouldn't be legal. And if it's illegal, it should be punished. And yet motor vehicles did hit 854 pedestrians all over the city last month, killing eight of them — a run of grief, violence, and horrific injuries that, statistically speaking, makes April a relatively peaceable month. And unless they were high or stoned, the vast majority of those drivers are back on the road. Menace a child with a baseball bat, and you will likely go to jail; kill that kid with an SUV and you'll pay a few-hundred-dollar fine. Manslaughter by motor vehicle is a perfectly legal crime.
The de Blasio administration and its allies are pushing hard to change that state of affairs, but success will require more than just adjusting stoplights or redesigning intersections; it means transforming an entire culture. We have to recognize that crashes are preventable disasters rather than random events — not accidents at all, but the product of individual decisions. Reckless and distracted driving must become a new taboo.
Today, the City Council is scheduled to vote on (and will almost certainly pass) a passel of traffic-safety bills that jabs at the problem from a dozen different directions without striking a lethal blow. Helen Rosenthal, who represents the increasingly lethal Upper West Side, introduced Cooper's Law, named for 9-year old Cooper Stock, who was mowed down by a cab on the crosswalk outside his apartment building. The new statute is at once important and puny: It gives the Taxi and Limousine Commission the power to take a killer cabbie off the streets and leaves all other drivers unaffected, since they are licensed by the state, not the city. It's a start. "Cab drivers set the tone on New York City streets," says Paul Steely White, executive director of the advocacy group Transportation Alternatives. "If there are three or four cabs jockeying for position and switching lanes at 40 miles an hour, other drivers will behave the same way."
Other common-sense laws coming up for a vote tinker with aspects of traffic safety, banning motorcycle stunts, compelling TLC to report all crashes involving cabs, demanding that the DOT replace broken traffic signals quickly, and so on. "The City Council is taking the skeletal outline of Vision Zero that the mayor proposed and putting some meat on it," says Rosenthal. Still, there's a reason why reckless drivers are free to kill again, why speed limits aren't lowered, and speed cameras aren't installed citywide. "The short answer is Albany," says White: New York State controls most motor-vehicle laws, and enacting sensible legislation quickly is not what our state legislature does.
The de Blasio administration isn't waiting for new laws. It is continuing the push to make New York's streets calmer and more forgiving. The mayor's first budget includes nearly $100 million to widen sidewalks, redesign intersections, and install medians, measures that have a record of reducing crashes and pedestrian injuries. The police department, too, has reclaimed traffic enforcement as a high priority, more than doubling the number of summonses issued for failing to yield to pedestrians. (Somewhat less impressively, the NYPD wrote 15 percent more speeding tickets in the first four months of this year than it did during the same period in 2013.) For now, it's hard to evaluate the effectiveness of these new policies. Roughly 16,000 crashes occur on the city's streets every month, and although that number fluctuates, it has not definitively fallen. Encouragingly, the number of pedestrians killed by vehicles dropped to 39 during the first four months of 2014, down from 56 during the same period last year. But at the same time, crashes, injuries, and deaths spiked on the Upper West Side, prodding the city to overhaul the intersection at Broadway and 96th Street. We're a long way from Zero.