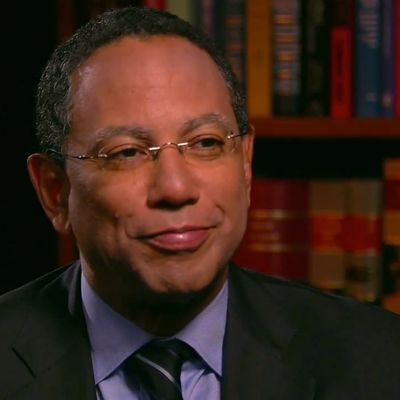 Photo: Investigating Power
A bit buried in the unexpected announcement that the New York Times is ditching its first female executive editor, Jill Abramson, after less than three years, is that the man replacing her is also historic. Dean Baquet, 57, unexpectedly became the first African-American atop the paper's masthead today, calling it "an honor to be asked to lead the only newsroom in the country that is actually better than it was a generation ago."
"There is no journalist in our newsroom or elsewhere better qualified to take on the responsibilities of executive editor at this time than Dean Baquet," said Times publisher Arthur Sulzberger Jr. "He is an exceptional reporter and editor with impeccable news judgment who enjoys the confidence and support of his colleagues around the world and across the organization." From New Orleans to New York, Chicago, L.A., and back, here's his story so far.
Baquet's roots are in Louisiana. The second youngest of five boys, Baquet grew up in his family's restaurants. His father was a postal worker before he sold the family's house to start Eddie's Restaurant, with the brood living in the back rooms. Later, the Baquets would own the creole spot Li'l Dizzy's in the historic Treme neighborhood.
His first plane ride was at 18, when he left to attend college. He later dropped out. In 2005, The New Yorker's Ken Auletta reported, "The first time Baquet traveled outside Louisiana was when he went North to attend Columbia University." He majored in English literature, but not for long. "After his sophomore year, he got a summer internship at the States-Item, an afternoon paper in New Orleans — an experience he liked so much that he dropped out of Columbia."
"Journalism was just an accident," Baquet told Editor & Publisher in 2006. "It just happened and I fell in love with it."
He won a Pulitzer Prize in 1988. After about seven years reporting in New Orleans, including a stint at the Times-Picayune, Baquet moved to the Chicago Tribune in 1984. Four years later, he was part of Pulitzer Prize–winning team that covered City Council corruption. "I've got two boys with two Pulitzers," Baquet's mom has said, including her youngest, Terry, who also won one at the Times-Picayune. "Not many mothers can say that."
Baquet once told his friend, fellow reporter and future Times-Picayune editor Jim Amoss, "I want to make people gasp over their morning coffee."
He was a big deal at the New York Times once before. Baquet was hired as an investigative reporter at the Times after six years in Chicago.  ("While I really love being an editor," Baquet said later, "the reporter instinct is what drives me.") The executive editor at the time, Joseph Lelyveld, made him an editor, Auletta reported. "I hated it for the first year, and then I started to like it," said Baquet, who started with the metro section before moving to national.
Newsrooms are notorious for their competition and backbiting, and few editors escape the atmosphere of complaint and resentment. Baquet succeeded. Douglas Franz, a close friend who worked under him, said, "The national desk was situated in the middle of the third-floor newsroom, and I sat a few feet away from it for five years. It was the happiest place in that often dismal building, a desk where editors joked and reporters liked to drop by, rather than slink past. And it was because of Dean." With patience, Baquet might have won the most powerful job in newspapers—the editorship of the New York Times.
Instead, he went west. "I'm not a careerist, but I did look at what the next job for me would be at the New York Times," Baquet told The New Yorker at the time. "I was too young to be a candidate for anything but assistant managing editor. I just thought, Would my next job at the New York Times be as fun as being the managing editor [at the Los Angeles Times]?"
At the L.A. Times, he was accused of killing a story on the NSA. Pre-Snowden whistle-blower and AT&T technician Mark Klein worked for two months on a story with L.A. Times reporter Joe Menn, but then told the story "had been killed at the request of then-Director of National Intelligence John Negroponte and then-director of the NSA Gen. Michael Hayden," ABC reported. "Baquet confirmed to ABCNews.com he talked with Negroponte and Hayden but says 'government pressure played no role in my decision not to run the story.' Baquet says he and managing editor Doug Frantz decided 'we did not have a story, that we could not figure out what was going on' based on Klein's highly technical documents."
Klein's story was later published by … the New York Times.
Los Angeles did not work out. In what he called a "tragic, bad marriage" between the Tribune Company and the L.A. Times, Baquet was forced out when he refused to make dramatic staff cuts in late 2006. "It is the job of an editor of a newspaper to put up a little bit more of a fight than we have put up in the past," Baquet said at a speech just before his firing. "Your newsroom wants you to lead them." 
Eventually, Baquet came back to New York and they weren't going to let him leave again. In 2007, he re-joined the Times as Washington bureau chief under executive editor Bill Keller, and was considered a top candidate to replace him before Abramson eventually got the (short-lived) job.
Although he was passed over for the top spot, the Times held onto Baquet: Earlier this month, HuffPost reported that Bloomberg News tried to poach him to oversee its expanding Washington coverage. Sulzberger and Co. somehow convinced him to stay, but it's unclear if he knew Abramson's ouster was coming soon.
"These are two people who are really good friends of mine. I don't know what happened," Keller told the Washington Post today. "I'm sad for Jill and hope for the best for Dean."
Baquet does have a bit of a temper. A Politico story from last year reported the time Baquet punched through a wall after being admonished by Abramson. (He also defended his then-boss on the record.) "I feel bad about that," Baquet said of the incident. "The newsroom doesn't need to see one of its leaders have a tantrum." He added, "I never lose my temper at a person. I lose my temper at walls."
He'll be a "hands-on" editor. While Ambramson was criticized in that same Politico article for being a terrible, "disengaged" boss, Baquet, as managing editor, was praised by Abramson's backbiters as "the opposite: He cares about newsroom morale and he cares about being liked."
While citing "some aspects of the management of the newsroom" in Abramson's firing, Sulzberger called Baquet, pointedly, "a proven manager," in his memo to staff. "I'll be around. I'll be hands-on. I'll be walking the aisles," Baquet told the newsroom during today's surprise meeting. "It's the only way I know how to edit." Just hours after he was appointed, Baquet led his first page-one meeting: