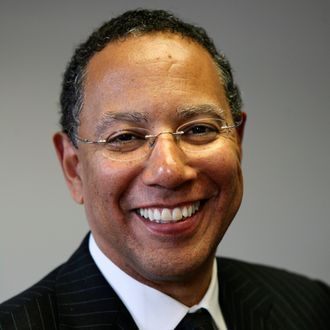 Photo: Doug Mills/The New York Times
Coinciding with the firing of Jill Abramson at the New York Times was the leak of a detailed internal report from a team led by publisher Arthur Sulzberger Jr.'s son and assumed heir, A.G. Sulzberger, recommending ways the paper could catch up to the internet. "We are not moving with enough urgency," said the document, titled "Innovation" and published, fittingly, by BuzzFeed, which is cited within as a competitor, along with other digital-first start-ups like Ezra Klein's Vox.
Getting to work after a dramatic few days, new executive editor Dean Baquet said in a memo to staff today, obtained by Intelligencer, that he's already on it.
The report, "is very candid and was meant to be an honest investigation of where we are and need to be — and for that reason was never intended for wide circulation," Baquet wrote. "Now the full report is out, and perhaps that is a good thing, because we are proud of the report and what it says."
"The very first step … should be a deliberate push to abandon our current metaphors of choice — 'The Wall' and 'Church and State' — which project an enduring need for division. Increased collaboration, done right, does not present any threat to our values of journalistic independence," the document stated.
"The best companies constantly look for ways to get better," Baquet continued in his note. "They embrace change, rather than simply telling themselves how good they are." (The first line of the report was, "The New York Times is winning at journalism.")
"The report calls for us to move with urgency. I couldn't agree more," the new boss said, adding that he and assistant managing editor Ian Fisher "are already starting to implement many of these recommendations." The message from Baquet seems to be enough distractions, let's get back to work.

Baquet's full memo:
Colleagues –

Last week, we sent to all of you a memo outlining the key recommendations of the Innovation Report from a team that included some of the smartest people in the newsroom. It focused on the most important things we need to do to continue innovating digitally.

Here is the draft report given to the newsroom leadership. It is very candid and was meant to be an honest investigation of where we are and need to be – and for that reason was never intended for wide circulation. 

Now the full report is out, and perhaps that is a good thing, because we are proud of the report and what it says.

The best companies constantly look for ways to get better. They embrace change, rather than simply telling themselves how good they are.  As great as we are journalistically, there is much more to be done digitally.

That honest appraisal is what I and the masthead found so invigorating when we first saw the report. It is smart and thoughtful both in questioning our traditions and suggesting how we can – and must – build on the many things we do so well.

The report calls for us to move with urgency. I couldn't agree more. That's why Ian Fisher and I are already starting to implement many of these recommendations.

Have a read, and give us your thoughts.

- Dean

And the report, which has now been officially shared with Times staff in full (via Mashable):