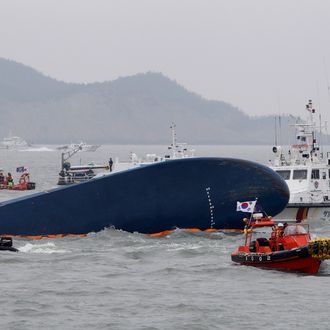 Photo: Chung Sung-Jun/Getty Images
Three weeks after a ferry carrying 476 people sank off the coast of South Korea, the disaster led to another death on Tuesday morning. A civilian diver on his first mission into the sunken ferry died after losing consciousness underwater, according to officials overseeing the recovery effort. Lee Gwang-ok, 53, lost radio contact five minutes after heading into the ferry to install guideline ropes, which divers use to navigate the maze of cabins as they search for victims. Lee wasn't breathing when he was pulled to the surface by other divers, and he was pronounced dead at the hospital. 
Lee is the second person to die during recovery efforts. A sailor in the South Korean navy died last month of a head injury sustained inside a destroyer aiding in the search. Not counting the two recovery workers, the confirmed death toll is now 263, with 39 people still missing.