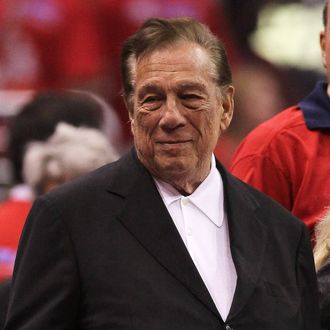 Photo: Stephen Dunn/Getty Images
You may find this shocking, but it appears Donald Sterling said something in his CNN interview that wasn't entirely accurate. "People want me to hire a wall of lawyers and them to have to hire a wall of lawyers and go to war," he told Anderson Cooper. "I don't think that's the answer." Nevertheless, on Thursday a lawyer representing the Los Angeles Clippers owner reportedly sent a letter to NBA executive vice president and general counsel Rick Buchanan, informing him that he will not pay the $2.5 million fine imposed by the league. "We reject your demand for payment," the letter said, adding that Sterling's secretly recorded racist comments do not warrant "any punishment at all."
The letter ends by saying that the controversy "will be adjudicated," leaving little doubt that Sterling intends to wage a legal battle to retain ownership of the Clippers. The attorney who penned the letter, Maxwell M. Blecher, is well-known for winning an antitrust suit against the NFL regarding the Raiders relocating from Los Angeles to Oakland.
Blecher lays out two potential legal defenses for Sterling, but sports law expert and Sports Illustrated columnist Michael McCann says neither is viable. Blecher claims Sterling has not violated the NBA's constitution and points to several of its provisions, but weirdly, not the one the NBA is expected to use against his client. Article 13(d) says that an owner cannot "fail or refuse to fulfill" contractual obligations to the NBA "in such a way to affect the Association or its members adversely," even unintentionally. Between boycott threats and condemnation from President Obama, there's ample evidence that Sterling's remarks negatively affected the NBA.
The letter also alleges that the NBA violated Sterling's "due process rights," though McCann explains, "The problem for Sterling is that the NBA is a private association and is not required to provide due process rights. Sterling, moreover, contractually assented to the NBA's system of justice through various contracts, including his franchise agreement to purchase the Clippers and the joint venture agreement, which indicates the NBA has binding authority over the teams."
If Blecher wants to add beating a second major sports league to his resumé, he'll probably need to come up with a better angle.