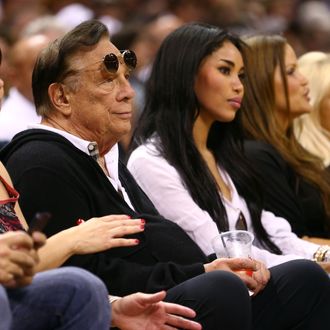 Photo: Ronald Martinez/2013 Getty Images
Previous reports that L.A. racist Donald Sterling would just shut the hell up and sell the Clippers after being banned by the NBA were too good to be true. Instead of simply taking the $2 billion offered — the most in league history — and going far away forever, Sterling will instead sue the NBA for $1 billion, NBC reports, dragging this thing all the way out. Being disliked by 92 percent of Americans, according to one recent survey, was just not enough. Gotta get that last 8 percent.
Meanwhile, anonymous sources told ESPN and CNN that two neurologists have decided Sterling is "mentally incompetent," which could make his wife Shelly the sole trustee of the team. The sale would certainly go a lot smoother. Sterling's lawyer, though, called the reports a "vast overstatement" rather than convincing his client to use the excuse, accept the money, and leave the world alone.