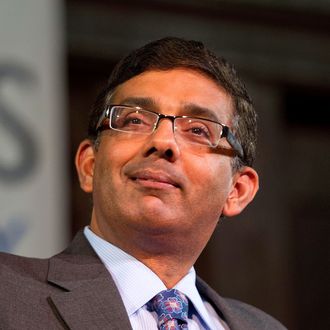 Photo: Ben Hider/Getty Images
It looks like the world will be deprived of the embarrassing spectacle of a Dinesh D'Souza trial. The race-baiting conservative commentator and anti-Obama "documentarian" pleaded guilty to one count of violating campaign finance laws. (A charge of making false statements is expected to be dismissed when he is sentenced at the end of September.) He did manage to get through his Tuesday court appearance without blaming the president for his situation.
D'Souza's plea comes four months after he was indicted for using straw donors to give money to his college friend Wendy Long's doomed 2012 New York senate campaign. (Specifically, he instructed two friends — one of whom was his much younger, then-married girlfriend — and their spouses to donate a combined $20,000 to Long, then reimbursed them.) Prosecutor Carrie Cohen said that, had the case gone to trial, the not-quite donors would have testified against D'Souza, as would have Long.
"I knew that causing a campaign contribution to be made in the name of another was wrong and something the law forbids," D'Souza told Manhattan Judge Richard Berman. "I deeply regret my conduct." He now faces $250,000 in fines and 10 to 16 months behind bars. However, his lawyer, Benjamin Brafman, has indicated that he will ask the judge not to put his client in prison, having told reporters that D'Souza is a "fundamentally honorable man" who has only committed an "isolated act of wrongdoing," which is true if you ignore much of his career.