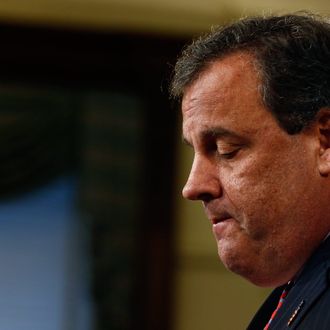 Photo: Jeff Zelevansky/Getty Images
Back in mid-December, just as it was becoming clear that Chris Christie's Port Authority appointees had purposely caused a traffic jam to punish Fort Lee Mayor Mark Sokolich, the New Jersey governor told reporters that he had asked "everybody on [his] senior staff" if they had "any knowledge" of the plan to close lanes on the George Washington Bridge. "They've all assured me that they don't," Christie said. Now a lawyer representing ex-Christie aide Bill Stepien wants the world to know that that wasn't true.
For those who somehow forgot: Stepien was Christie's campaign manager and a contender for the chairmanship of New Jersey's Republican Party, though Christie asked him to remove his name from consideration for the job because of his role in the lane closures. In a newly released letter, Stepien's lawyer Kevin Marino asks Randy Mastro, who led the Christie-commissioned investigation into Bridgegate, to make "corrections" to the final report on the scandal, which cleared the governor of any wrongdoing:
"[T]he Report itself acknowledges — albeit obliquely —  that Mr. Stepien advised Governor Christie on December 12, 2013, that he (Mr. Stepien) did have prior knowledge of the lane realignment," Marino wrote, later adding: "When the Governor asked Mr. Stepien directly whether he had prior knowledge of the lane closures, Mr. Stepien truthfully told the Governor that [former Port Authority of New York and New Jersey executive] David Wildstein had come to him with the idea, to which Mr. Stepien responded that Mr. Wildstein would have to run the idea by normal channels in Trenton (i.e. the Governor's Office)."
The press conference where Christie said that his inner circle — and Stepien, specifically — had "assured" him of their lack of knowledge of the bridge situation happened on December 13, the day after the meeting cited by Marino. (Marino also claims that the meeting proves that Stepien, who has not cooperated with any investigations in Bridgegate, "was not involved in the origination, planning, execution, or concealment of [former Port Authority of New York and New Jersey executive] David Wildstein's lane closure plan.")
According to Mastro, "Shortly after receiving Bill Stepien's lawyer's request to 'correct' our report, we respectfully declined because, based on the evidence, there is no basis for any correction." But if a more objective person would disagree with Mastro's assessment, then Stepien's story certainly makes it look like Christie lied about what he knew and when he knew it.