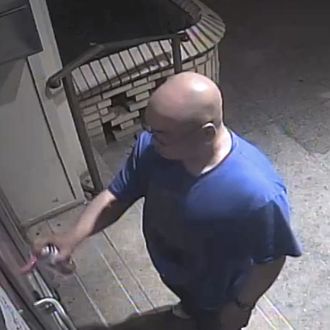 On Saturday night, a surveillance camera caught a stout, bald-headed man spray-painting anti-Semitic graffiti on the side of a school in Brooklyn's Borough Park. Over the course of the evening, over 20 swastikas and messages — including "fuck you Jews" and "Jews ain't shit" — were found scrawled on cars and buildings in the neighborhood, which has a large Orthodox Jewish population. On Sunday morning, ex-cop Michael Setiawan was arrested for the vandalism. 
According to the NYPD, the 33-year-old "separated with the department" in 2007 after two years on the force. The suspect's father, Thomas Setiawan, who shares a home with his son in Queens, told the Associated Press that the family did not know exactly why Michael left the NYPD. He added that his son "has had mental health issues and that he was depressed and suicidal" over no longer being a cop.
NBC New York reports that Setiawan is being charged with criminal mischief and aggravated harassment, both as hate crimes. "This was not a victimless crime," Assemblyman Dov Hikind, who represents the area, said in a statement. "We have many Holocaust survivors here, many elderly people and children who are appropriately frightened by unprovoked hate attacks upon their schools and community."
This post has been updated throughout.