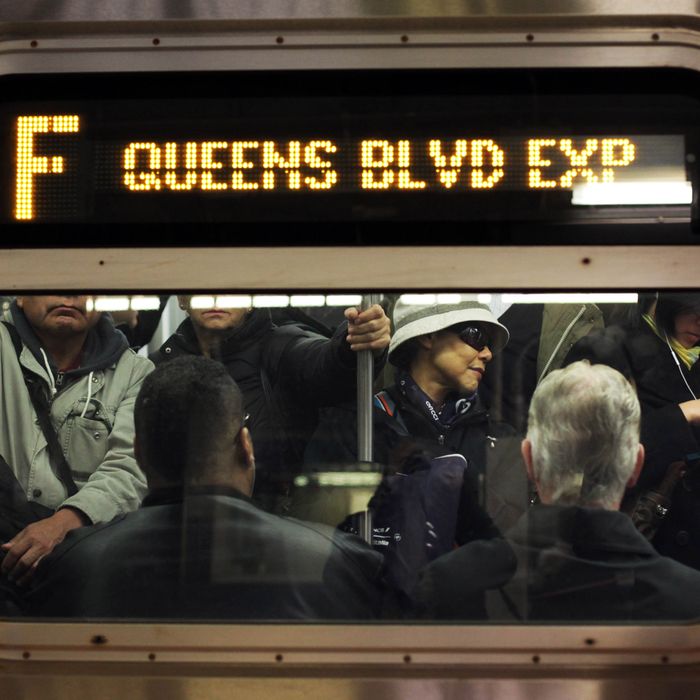 Photo: Allison Joyce/Getty Images
It might not just be you and your terrible luck: According to a new report from the Straphangers Campaign, the subway really is more screwed up than it used to be. The commuter advocacy group says that, in 2013, the MTA sent out 3,998 text message and email alerts warning passengers of "controllable delays," such as signal and track problems (uncontrollable things like sick passengers and police activity weren't included in the tally). In 2011, only 2,967 electronic alerts were issued, which means that delays people can blame on the MTA may have increased by 35 percent in the last two years. (2012 was left out of the analysis because Hurricane Sandy skewed the results.)
Here's a breakdown of why you're always late, via NBC New York:
Mechanical problems accounted for 1,411 of the 3,998 alerts in 2013, followed by signal issues with 1,230. Track problems accounted for 510 alerts, and switch issues were blamed in 438. Power problems accounted for 30 alerts.

The F line had the most delay alerts in 2013, with 326 alerts, followed by the 4 line, with 298, and the 2, with 289. The J & Z had the fewest, with 1 percent.

The L line had the poorest performance from 2011 to 2013, going from 96 delay alerts to 183 alerts.
The MTA dismissed the Straphangers' findings, saying that the electronic alerts shouldn't be read as "a performance metric." In a statement, the agency said that it had merely "become more efficient in providing service information in a more timely manner so customers are quickly aware of any incidents that may impact their commute," noting that "the cause of such incidents can quickly change upon further investigation." So, either the subway is getting less reliable, or we're just now learning exactly how unreliable it always was. Either way, the MTA would likely appreciate it if you'd keep your expectations low.