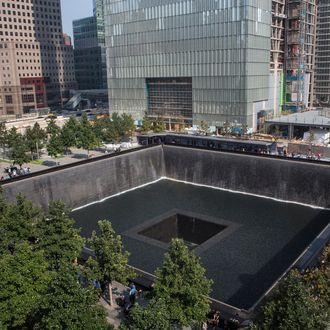 Photo: Andrew Burton/Getty Images
Understandably, nearly every aspect of the National September 11 Memorial & Museum has sparked controversy, but the latest issue could have easily been avoided with better communication. For years, some families have been fighting the city's decision to place the unidentified remains of those killed at the World Trade Center at Ground Zero, and they were further incensed when they were informed via email on Saturday that the controversial transfer would take place just a week later, on May 10. "This is such a critically important notification, and they issue it on the Saturday of a spring weekend," Sally Regenhard, who lost her son, Christian, told the New York Times. "What makes it worse is that they are doing this the day before Mother's Day, which is one of the most hard, horrible holidays for us," she said.
Regenhard is part of a group of victims' families that has taken legal action to block the plans. "We are appealing to the mayor" about the decision, she said. "Just postpone the transfer of these remains until you survey the families."
Opponents of the plan say the nearly 8,000 unidentified remains should not be kept in a museum, particularly one that charges $24 admission. However, the city has stressed that while the repository is in the same building as the museum, it's in a separate area at bedrock level, which will not be open to the public. The space also includes a private "Reflection Room" for victims' family members.
The remains will be moved from the medical examiner's office near the East River in a "ceremonial transfer" on Saturday. There will be a procession of Police Department, Fire Department, and Port Authority vehicles, but no services. "Family members will, of course, be welcome to gather around the plaza of the site as the remains are moved down," said Mayor de Blasio's press secretary, Phillip Walzak.
While some relatives said they didn't even receive the email, Walzak defended the city's notification efforts. "We were interested in getting this information out to people a week in advance," he said. "Our hope was to give people some lead time that the transfer was happening." But not too much lead time, apparently.