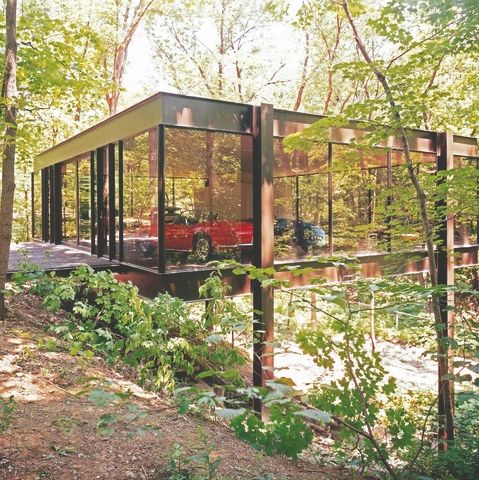 Where's Cameron?
Photo: Coldwell Banker
After five stop-start years on the market — anyone, Bueller, anyone? — the sleek, glassy, modernist house in Highland Park where the coddled Ferrari owned by the dad of Ferris Bueller's tightly wound buddy, Cameron, met its cliffside demise has finally found a taker. Per Crain's Chicago Business, it sold for $1.06 million, much less than its original asking price of $2.35 million.
Then again, it did need some work. Though the house was an architectural stunner by Mies van der Rohe protégé A. James Speyer, a 2013 Chicago Magazine article described it as "problematic," with "dated kitchen and bath fixtures" and walls that "were thin, some were in disrepair, and some of the rooms they enclosed were awkward." Also, the property was comprised of two buildings that weren't physically adjoined (the main house, which had four bedrooms, plus the car pavilion, which also had a kitchen and a bedroom), a hard sell in a city known for frigid winters.
Maybe it's Chicago? Walt Disney's childhood home on Tripp Avenue in northwest Chicago did, after all, also languish for years and saw massive discounts. The broker-owner attributed the delay to the fact that artists were the ones mostly attracted to the property, "but typically artists don't have any money," he told AOL. It finally sold in 2013 for an undisclosed amount to Hollywood producers who are turning it into a museum.
Or perhaps iconic homes, no matter the recognition, just don't command much of a bonus. Appraiser Jonathan Miller of the firm Miller Samuel says any bump one gets from being famous, whether as a pop-culture touchstone or a former celebrity abode, is "nominal." Truman Capote's house on Willow Street in Brooklyn Heights, for instance, did break records when it sold for slightly north of $12 million in 2012, but that was two years after it hit the market — the "typical marketing time" for city real estate at that time was four or five months, says Miller — and for much less than its initial $18 million asking price. He thinks it set a record not because of Capote, but because it's a beautiful house with "great bones and is about 9,000 square feet, and inventory for townhouses then was beginning to evaporate, which makes sense why it sold for a major price."
Of the Ferris Bueller house, Miller says "it seems highly probable that the seller priced it at pre-financial crisis levels" — it was first put on the market in 2009 — "in addition to adding a premium for being part of pop culture cinematic history. But the market for the most part is ruthless and doesn't care about that kind of label. It's fun to talk about, but on average, if you cut through the marketing hype, it doesn't translate into a meaningful dollar premium."
Coldwell Banker Previews International's Craig Hogan, who sold the Bueller house, agrees. He says the firm also saw the same thing happen with the Home Alone house, which eventually sold not to fans of the movie but to people who loved the building. "At the end of the day, what sold the [Ferris Bueller] house was not the notoriety of the property" — Hogan says fans of the movie sometimes make their way to the ravine where the Ferrari landed — "but the architecture. We sold it to a couple who are architecture buffs who want to restore it. Believe me, it was not connected to the movie."