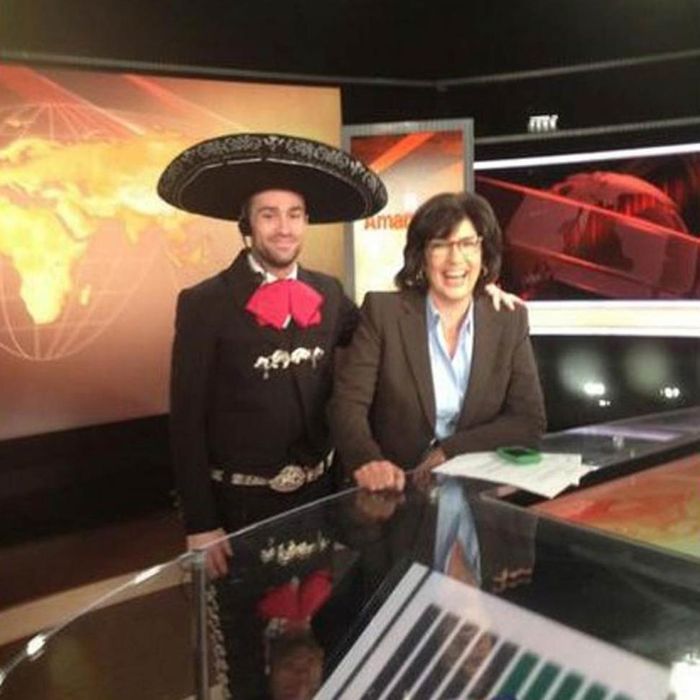 Kane, his mariachi suit, and Christiane Amanpour.
Former CNN operations employee William Kane is suing the network for a cool $60 million, claiming that his boss discriminated against him for being gay and wearing "flamboyant" clothing, the New York Daily News reports. Kane, who started at CNN in 2002, says that nobody criticized him for wearing bright colors or his two mariachi suits to work until his supervisor, John Silva, learned that he was gay. After that, Silva allegedly instructed Kane to leave his fun clothing at home "because it was too flamboyant for a male in our department" and suggested that Kane might be better off in the makeup department.
Kane also claims that he was told change into a more subdued outfit on at least two occasions because his looks were "distracting" to Piers Morgan and "too flashy" for Erin Burnett. The plaintiff complaints to HR about his newly hostile work environment were followed with citations for "nitpicking violations" that eventually led to him being fired last June. A CNN representative told the Daily News that the network "hadn't seen" the lawsuit, and that the Equal Employment Opportunity Commission had dismissed Kane's claims. Meanwhile, Kane says that both Burnett and Morgan denied that they had complained about his attire, with Morgan insisting that he "wear the brightest colored clothing when working on my show." Perhaps the two former CNNers can collaborate on a new project elsewhere.