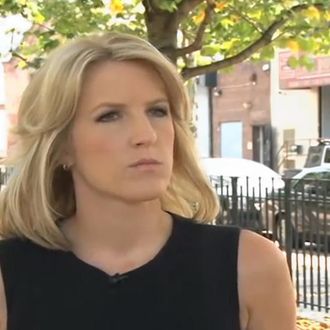 A former NBC Dateline producer is suing the network for unspecified damages, claiming that she was forced to act as a "sexual decoy" for people her boss hoped to feature on the show. According to the lawsuit filed in the Manhattan Supreme Court on Tuesday, 33-year-old Kimberly Lengle had originally applied to work as a receptionist, but was told by producer Dan Slepian that she needed to "dress sexier" for that role. Instead, she was put to work responding to and posting online sex ads with the intention of luring in targets for Dateline's "Wild Wild Web," a To Catch a Predator–like hidden-camera series about other types of internet weirdos.
Over the course of her year and a half at the job, Lengle was asked to contact a Craigslister looking for "a human punching bag," men looking for "personal assistants" they obviously hoped to use for sex, and a dude referred to as "the Sperminator" whose pitch "[promising] to get women pregnant through regular intercourse" came with pictures of himself naked, save for "a box he [held] over his privates." That last one was eventually deemed "too sleazy" to air.
On one occasion, Lengle secretly filmed a Las Vegas hotel meeting with a man who wanted to have sex on Oxycodone and Xanax, though, like many of the segments mentioned in the lawsuit, it never ended up on TV. Another time, she posed as a prostitute seeking a job at a brothel. Lengle was told to provide these folks with real photos of herself despite her safety concerns: "She told [Slepian] that she believed it was dangerous for her to have sent her photograph, which the target could upload to multiple adult websites." Meanwhile, male producers were not required to do sex stories, and instead stuck with pieces about stuff like "automobile fraud and sick pets."
Lengle alleges that she "endured" the assignments because Slepian "abused, ridiculed and threatened her" when she complained. Though NBC's Standards department supposedly told her that she didn't have to do anything that made her uncomfortable, she finally quit after she brought her objections to a senior HR director who sided with Slepian.
In a statement, NBC said that it had taken the "allegations very seriously and determined that [Lengle's] claims were entirely without merit." "We will vigorously defend our position in this case," said Ali Zelenko. Meanwhile, Lengle says that she still receives text messages from at least one of her targets, who recently wrote to tell her, "Fat bitch….Burn. You got it?" If nothing else, the lawsuit serves as a reminder that the internet is absolutely crawling with creeps to whom no woman should ever show her picture.