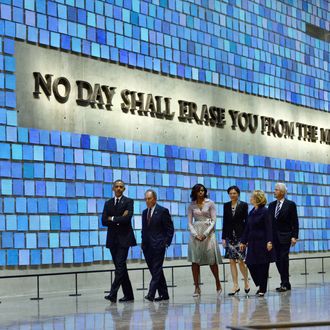 Photo: Jewel Samad/AFP/Getty Images
Press for the National September 11 Memorial Museum, which opened to the public yesterday, has not been entirely positive. Today, in reference to a cocktail party for donors hosted on the final night early access for victims' families, the Daily News cover reads, "Did you enjoy having drinks on top of my brother's grave last night?" On Sunday, the Post took on the souvenir store with "Little Shop of Horrors" ("Visit mass grave, buy a T-shirt"). But kicking out reporters for doing journalism probably isn't the solution.
That's what happened to Jen Chung of Gothamist when she visited on Wednesday with an extra ticket from a friend, because she hadn't heard back from the press department about media access. Upon arriving, Chung said she'd decided against asking questions of the visitors. "Of course I'm curious of what people think of the exhibits," she told Intelligencer. "But once I got there, I realized it wouldn't be appropriate because it was very sad."
But when she saw one guest berate another for using her cell phone for a "light, almost jovial" conversation among the most gut-wrenching galleries, she decided to ask a woman involved what happened. That did not fly, she writes:
The young woman began to answer, but then a security guard interrupted us, asking, "What are you? You're a reporter?" I said yes, and he told me, "You can't ask any questions. You have to go through the 9/11 Memorial people." I said okay and left the woman alone.

I continued to walk through the exhibit, and a second guard came up to me. "You're the reporter?" he said. "You can't ask questions here. You can't." I said I understood and reassured him I had only spoken to one person, and she seemed perfectly willing to talk.

I exited that exhibit and went to the bathroom. When I emerged, a third security guard—he appeared to be more senior-ranking because he was wearing a white shirt—pulled me aside. He inquired if I was the reporter. I said I was, and then he asked for my name and organization. I presented my NYPD-issued press credentials and he started to write down my name on a pad. Then he took a picture of my press card before saying, "I'm going to have to escort you out of the museum."
"If you go to our website, it clearly states that all media access has to be cleared through my office," said vice president of communications Michael Frazier, pointing to the rules that prohibit "harassment of Memorial, Preview Site, or Memorial Museum visitors who do not wish to be interviewed," and requires "prior written authorization" for members of the media. "I don't recall providing Mrs. Chung a pass for reporting purposes," said Frazier. "Chung was welcome to join the countless of other reporters on the memorial plaza. Our security team acted accordingly per our guidelines and rules. It wasn't personal."
But in a space paid for in part by taxpayers — and dedicated to American freedoms — the Museum's handling of this relatively low-stakes situation seems clumsy at best, and bizarrely repressive at worst.
"I totally understand that I violated the rules," said Chung, "but I was sensitive to the fact that it's a very moving, sad place." (The woman who was talking on her cell phone, which is also against the rules, was not escorted out.) "I wasn't being super pushy, I didn't try to surreptitiously approach people after — they were clearly tracking me," she said. "I had only asked that one question." She should've saved it for the gift shop.