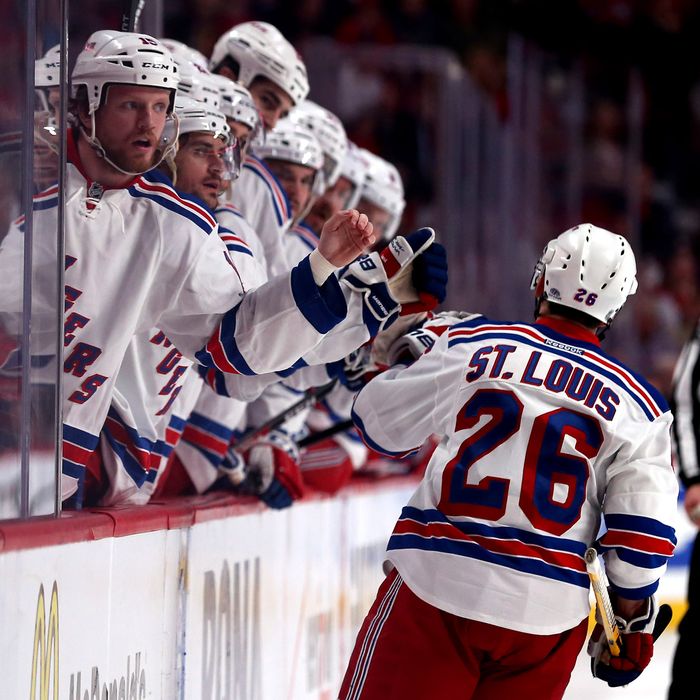 Martin St. Louis.
Photo: Bruce Bennett/Getty Images
The Rangers are two wins from their first Stanley Cup Final berth in 20 years, which means the bandwagon is about to get crowded with casual fans who don't regularly watch hockey. You may even be one of them! But if you haven't been following along with the team all season (or, you know, ever), here's a primer to catch you up.
How did they get here?
The Rangers finished second in their division in the regular season and beat the Philadelphia Flyers in seven games in the first of the Stanley Cup Playoffs' four rounds. In the second round, they upset Sidney Crosby (the league's best player) and the Pittsburgh Penguins, rallying from a three-games-to-one deficit to win the series in seven. They've won the first two games in the Eastern Conference Final against the Montreal Canadiens — both on the road — and host Game 3 at Madison Square Garden on Thursday.
Is this run unexpected?
Yes and no. Unlike a certain basketball team that plays at Madison Square Garden, the Rangers have been pretty good for the past decade, missing the playoffs just once since the 2004–'05 NHL lockout. They'd developed a young home-grown core, supplemented by splashy acquisitions, and they've now won five playoff series over the past three seasons. (Their best run in recent years came in 2012, when they reached the conference finals, losing to the Devils in six games.) In other words, their window of opportunity is open right now.
They changed coaches in the off-season (more on that in a minute), and after an ugly start, generally got better as this season went on. Advanced stats even suggested they might have been a bit better than their record: They were a solid puck-possession team, which is a good metric to look at in hockey. But once they fell behind 3–1 to Pittsburgh, no one expected they'd win the series — especially considering how thoroughly they'd been embarrassed in Game 4 on home ice. The Rangers had never before won a series in which they trailed 3–1.
What are some story lines I should know?
• Martin St. Louis, a six-time All-Star who's twice led the NHL in scoring, arrived mid-season in a trade with the Tampa Bay Lightning after popular Rangers captain Ryan Callahan couldn't work out a contract extension and was dealt before he reached free agency this summer. St. Louis's mother, Frances, died suddenly between Games 4 and 5 against Pittsburgh, and the team seems to have rallied around him. They've won all five games since then, and St. Louis has contributed himself, with three goals and two assists in those games. The most emotional moment of the last couple of weeks came when St. Louis opened the scoring in Game 6 against Pittsburgh, on Mother's Day.
• The Rangers have a new coach this season in Alain Vigneault, the former Vancouver Canucks coach who prefers an up-tempo, offense-minded style. That's a 180 from their previous coach, the prickly John Tortorella, who instituted a blue-collar, defense-first system. The Rangers now use their speed to their advantage, and when everything clicks, they can be a lot of fun to watch, though their offense still sputters on occasion.
• The Rangers' opponent in the conference final, the Montreal Canadiens, will play the rest of the series without their star goalie, Carey Price, who this winter had been in net for Team Canada when they won Olympic gold in Sochi. In a controversial moment in Game 1 on Saturday, Rangers winger Chris Kreider crashed into Price after losing his balance on a breakaway, with some believing he didn't do enough to avoid contact with the Habs' netminder. (Canadiens tough guy and former Ranger Brandon Prust described Kreider's collision as "accidentally on purpose.")
Who else do I need to know about?
• The Rangers' best and most important player is goaltender Henrik Lundqvist, who may also be the only player casual fans have heard of, thanks to his sense of style, dreamy blue eyes, and ability to rock out on the guitar. Lundqvist has been awesome in the playoffs so far, posting a save percentage of .934, best of any goalie this postseason. He's also added to his reputation as a money goaltender in Game 7s: His teams are now 4-1 in such games, thanks largely to his miniscule 1.00 goals against average and a .936 save percentage.
• Rick Nash, whom the Rangers acquired in the summer of 2012 to give the team some much-needed scoring punch, didn't score once in the first two rounds, but has lit the lamp in each of the first two games against Montreal. Nash, who uses his size and long reach to create chances, actually leads all NHL players with 56 shots in the postseason (it helps that the Rangers have played more playoff games than any other team), but his struggles to score had been well documented until he finally broke through on Saturday.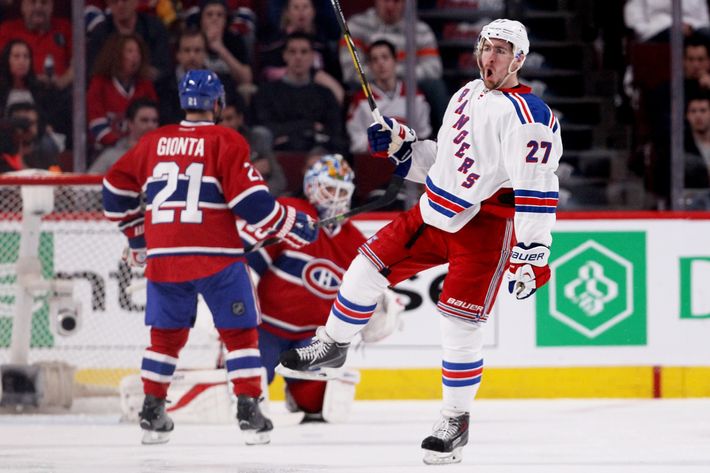 • The Rangers' best player other than Lundqvist is probably Ryan McDonagh, who forms one-half of the team's top defensive pair. McDonagh, who skated for Team USA in Sochi, is one of the league's best shut-down defenseman, and usually sees time against the opponent's best offensive players. After some struggles early in the playoffs, he's back at the top of his game: He has six points in the first two games against Montreal. For all their speed, the Rangers' biggest strength is still their ability to keep the puck out of the net, and they have three excellent defensemen playing in front of Lundqvist: McDonagh, Dan Girardi, and Marc Staal.
• Chris Kreider, who burst onto the scene during the 2012 playoffs, is one of the Rangers whose speed has caused problems for Montreal. While much has been made about how the team came together in the wake of the death of St. Louis's mother prior to their Game 5 elimination game against Pittsburgh, their lineup had gotten a big boost with the return of Kreider in Game 4, after he'd missed the team's first ten playoff games with an injury. (He's especially helped on the power play, which had been struggling mightily.)
How rare is a run like this for the Rangers?
Pretty rare! Since winning the Stanley Cup in 1994 (their first in 54 years), the Rangers have advanced to the conference finals just three times: In 1997, with the core of the Cup team still intact, then again in 2012 and 2014. They haven't been back to the Stanley Cup Final since 1994.
So they've got this series locked up, right?
Not necessarily. Even putting aside all the hockey reasons Montreal might make a series of this (star defenseman P.K. Subban might still break out, the Rangers were better on the road this year than at home, etc.), the Rangers historically don't make anything easy on themselves or their fans. Last night's win snapped a 13-game losing streak in playoff games that took place while they had a lead in the series. And after getting blown out in Game 1, Montreal had a ton of good scoring chances last night, but Lundqvist stood on his head to preserve the victory. As the Rangers proved against Pittsburgh, these series can change direction quickly.