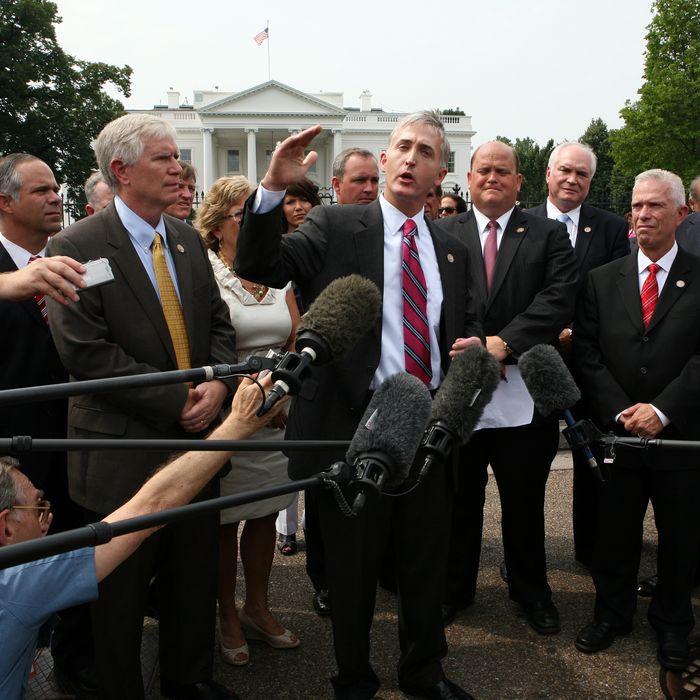 Rep. Trey Gowdy and fellow House Republicans speak outside the White House on July 19, 2011.
Photo: Martin H. Simon
While eight investigations on Benghazi have failed to produce evidence of a White House cover-up, on Thursday the House of Representatives voted to form a select committee to reexamine the issue. The measure was supported by all Republicans and seven Democrats in vulnerable seats. This means there will be hearings on Benghazi throughout the summer, just in time to energize the GOP base before the midterms – though Republicans deny accusations that this is just a political ploy.
"The White House has engaged in a pattern of obstruction – consistently ignoring subpoenas, redacting relevant information and stonewalling investigators," said Majority Leader Eric Cantor. "This obfuscation and refusal to come clean to Congress has left us as well as the people of this country wondering what else is the White House hiding?"
The panel will be comprised of seven Republicans and five Democrats, though Democrats had requested an evenly divided committee. Speaker John Boehner named Representative Trey Gowdy of South Carolina, a former prosecutor, to lead the panel. In a USA Today opinion piece published Thursday, Gowdy said the committee should "should strive to uncover every relevant witness, document or other piece of evidence so our fellow citizens can know the facts and the full truth." This video of Gowdy passionately deriding the White House response to Benghazi last year has racked up nearly 2.4 million views on YouTube:
Dozens of Republicans are said to be clamoring for a spot on the committee, and Boehner is expected to announce the other six Republican members on Friday. Businessweek reports, "Mindful of the sensitive nature of the investigation, and claims that previous inquiries turned into political spectacles, Boehner has told fellow Republicans not to grandstand on the issue."
Some Democrats feel they should boycott the panel to avoid legitimizing the proceedings. Others think they should appoint some members – but maybe not all five – so they have the ability to defend witnesses, view documents, and challenge Republican claims. Democrats will meet tomorrow to make their decision.
A report earlier this week said House Minority Leader Nancy Pelosi is leaning toward appointing fewer than five members, but not boycotting the panel completely. Representative James Clyburn, a member of the Democratic leadership, declared on Thursday, "We should not even participate in it." He said of his Republican colleagues, "Let them drive it, they're driving it anyway … I'm not bringing a noose to my hanging."