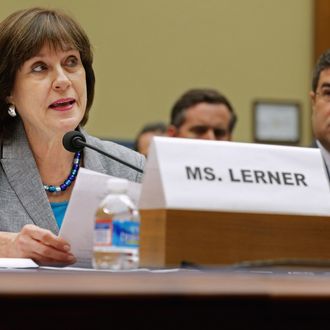 Lois Lerner.
Photo: Chip Somodevilla/Getty Images
Continuing what Democrats have dubbed "conspiracy week," on Wednesday the House of Representatives voted to hold former IRS official Lois Lerner in contempt of Congress, almost exactly one year after she admitted that the agency targeted political groups for extra scrutiny. Six Democrats joined all voting Republicans to hold Lerner in contempt for repeatedly invoking her Fifth Amendment rights when questioned at a congressional hearing, despite making an opening statement in which she declared her innocence. "You don't get to use a public hearing to tell the public and press your side of the story and then invoke the Fifth," said Oversight Committee Chairman Darrell Issa on the House floor. "That is not how the Fifth Amendment is meant to be used. It is a shield; Lois Lerner used it as a sword."
Last year, James Duane, a Fifth Amendment expert at Regent University, told Daily Intelligencer that testifying before Congress is actually not the same as taking the stand in a criminal trial, so what Lerner did is legal, and not comparable to refusing cross-examination on Fifth Amendment grounds. Democrats stressed that many legal experts have come to the same conclusion, and pointed to several instances in which courts rejected contempt cases against people who refused to testify about what Senator Joseph McCarthy alleged were "un-American" activities.
It's now up to the U.S. Attorney for the District of Columbia to decide whether to bring criminal charges against Lerner. If convicted, Lerner could face a year in prison or a fine of up to $100,000, but some experts doubt she'll be tried. In a separate vote, the House also passed a resolution calling on Attorney General Eric Holder to appoint a special prosecutor to investigate the IRS scandal. (Fun fact: The last person the House held in contempt was Eric Holder, for withholding documents related to its Operation Fast and Furious probe.)
Politico notes that for some reason, House Republicans decided not to go with a civil contempt citation, which if successful, would result in a court order demanding that Lerner testify. While a civil suit would bypass the U.S. attorney, Lerner couldn't be jailed unless she refused to comply with the court order. "They don't want to [go civil] because it sounds sexier to say, 'Oh she's going to be put in jail,'" said Stan Brand, a former House counsel. "Which leads me to believe they're not that that serious. They're just grandstanding."