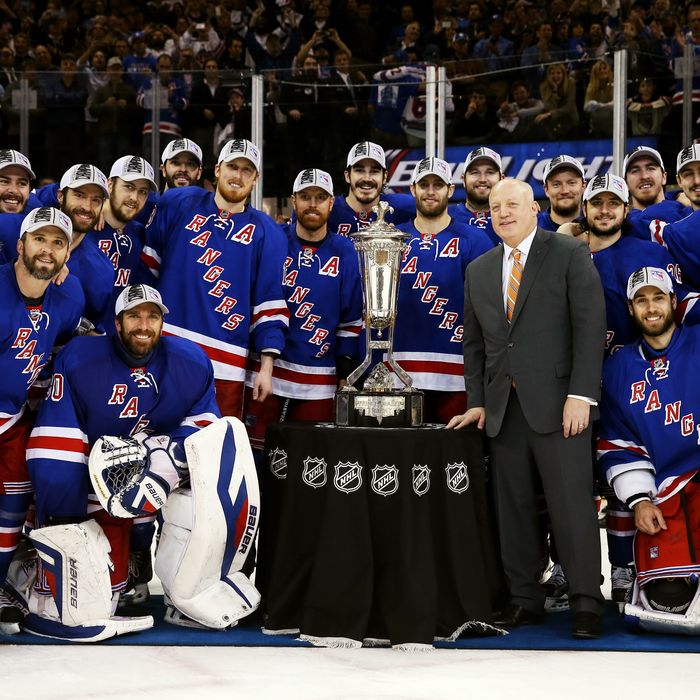 The Rangers gather around the Prince of Wales Trophy last night.
Photo: Bruce Bennett/Getty Images
Jim Dolan is one of the most loathed figures in New York sports, thanks mostly to the ongoing circus that is the Knicks — and his repeated meddling in their operations. But Jim Dolan also owns a hockey team, and after eliminating the Canadiens last night in the Eastern Conference Final, that team is about to play in its first Stanley Cup Final in 20 years. Their run to the Final this spring, while a little unexpected, is not a fluke: The Rangers have been building toward this for a decade now and have come close to this point before. And in doing so, they've established a blueprint for how a team owned by Jim Dolan can actually succeed.
The most important point here is also the most obvious: Jim Dolan stays the hell out of the Rangers' business. Maybe he just doesn't care enough about hockey to involve himself. Perhaps he sees the Knicks as the most important Garden tenant, and focuses his attention on them. More likely, he doesn't think he knows enough about hockey to interfere. But whatever the reasons, Dolan hasn't been known to order Rangers trades, handpick personnel, or otherwise overrule his hockey people, led by GM Glen Sather. His job, as best as anyone can tell, has been limited to two things: being loyal to Sather (even when doing so wasn't popular with fans), and opening up his checkbook when necessary.
That second thing, of course, has long been the best thing about Dolan: In an American sports landscape leveled somewhat by salary caps, some teams are still able to spend more than others, and his ownership at least guarantees Knicks and Rangers will be willing to spend as much as they're allowed to. Doing so wisely is another thing altogether, but it at least gives them the flexibility to construct the roster however the GM sees fit. (That's not necessarily true of all teams that play in New York, the country's largest media market. Just ask Mets fans.) Dolan may be in the room when Rangers executives pitch free agents, but that seems to be the extent of his involvement. He's there because it would be weird if the owner weren't. Otherwise, he lets Sather run the show.
In fact, it's so rare for Dolan to show an interest in the Rangers that it's news when it does happen. In January of 2012, with the team en route to a first-place division finish, Dolan unexpectedly crashed a postgame press conference with the team's then-coach, John Tortorella, and said that the Rangers were "pretty close" to the Stanley Cup. (Tortorella, as was his style, called that declaration "bullshit" moments later.) Rangers fans everywhere cringed, fearing that Dolan would suddenly become more involved. Thankfully, he hasn't.
Ceding control to his hockey people has led to a more responsible long-term philosophy. The Rangers have patiently built a winning team since a lockout wiped out the 2004–05 season and led to the creation of a salary cap. Before that, Sather ran the Rangers much like Isiah Thomas ran the Knicks: bringing in big names on the downsides of their careers and throwing huge money at players who didn't deserve it. The occasional prospect might develop in such a system, but teams weren't built around such young players.
But since then (and in the last five or six years especially), Sather's built the team the right way: Holding on to draft picks, letting young players develop, and then supplementing them with the things they couldn't produce on their own. And when a sports league places restrictions on spending, there's a huge financial advantage to developing young (i.e., cheaper) players.
It's not that Sather hasn't made mistakes — particularly on the free agent market — but he was able to develop enough talent to get the Rangers close, and only once their window of opportunity opened did they truly go into so-called "win now" mode. Certain homegrown players were traded for more established stars, and only once the Rangers got close were they willing to part with prime draft picks. (Last year's draft was the first since 2002 that they didn't make a first-round selection.)
The result isn't just a good team; it's a functional organization. Few teams in sports produce as much drama as the Knicks. They're an entire franchise with baggage. The Rangers, though, increasingly feel like any other good team that does many things right, some things wrong, and remains competitive year after year. That likely wouldn't have happened if Dolan hadn't stayed out of the way.
The Knicks' situation isn't exactly the same as the Rangers, because in the NBA, one or two great players can themselves dramatically change a team's outlook. But even when the Knicks gradually positioned themselves for the big free agent summer of 2010, they took the risk they'd be able to land one or more such player, ultimately settling for a consolation prize. They'd continue to chase big names, paying a heavy price for Carmelo Anthony in a move Dolan was reportedly very involved with. But the Knicks have won just one playoff series since the turn of the century and seem to bottom out every few years.
Only in the last few years have the Rangers taken a real shot at a title, targeting some final pieces once the core of a good team was already in place. The signing of center Brad Richards in 2011 marked the beginning of this, and the trades for Rick Nash and Martin St. Louis — ones that were better for the short-term than the long-term — followed the same strategy. The Rangers have a timeline — one that's mostly pegged to the prime years of all-world (and homegrown) goaltender Henrik Lundqvist. The Knicks, meanwhile, routinely have hurt themselves in the long term even when they weren't particularly close to a title in the short term. (The list of draft picks they've traded away is both long and depressing.)
For what it's worth, Jim Dolan says he'll allow Phil Jackson to run the Knicks, though there are indications he won't be staying out of the team's business entirely. But Jackson (a hockey fan) has no doubt noticed the autonomy granted to his Rangers counterpart, and has surely also noticed that it's been working. A team owned by Jim Dolan can indeed win, as long as Jim Dolan leaves everyone alone.