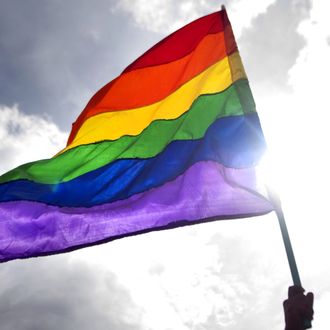 Photo: RAUL ARBOLEDA/AFP/Getty Images
On Tuesday evening, a federal judge ruled that Idaho's 2006 ban on same-sex marriage is unconstitutional. "Idaho's marriage laws deny same-sex couples the economic, practical, emotional, and spiritual benefits of marriage, relegating each couple to a stigmatized, second-class status," U.S. Magistrate Judge Candy Dale said in her response to a lawsuit brought by four lesbian couples. "Plaintiffs suffer these injuries not because they are unqualified to marry, start a family, or grow old together, but because of who they are and whom they love."
Dale said the state must start issuing marriage licenses to same-sex couples at 9 a.m. on Friday, but Governor Butch Otter has requested a stay until the "completion of all appeals." It's unclear when the court will take up the motion, but Otter says he plans to appeal to the Ninth Circuit Court of Appeals, and then the U.S. Supreme Court.
"In 2006, the people of Idaho exercised their fundamental right, reaffirming that marriage is the union of a man and a woman," he said of the amendment to the state's constitution. "Today's decision, while disappointing, is a small setback in a long-term battle that will end at the U.S. Supreme Court. I am firmly committed to upholding the will of the people and defending our Constitution."
Dale's decision makes Idaho the twelfth state where courts have struck down gay marriage bans since last summer, when the Supreme Court ruled that the federal government must recognize same-sex marriages.