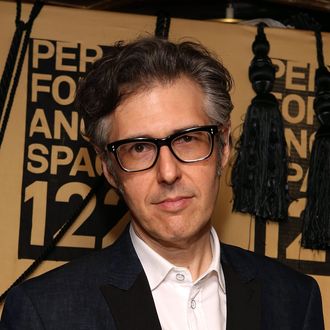 Photo: Robin Marchant/Getty Images
This afternoon at the Peabody Awards, which celebrate TV, web, and radio storytelling, "This American Life" host Ira Glass admitted he's not up on the biggest story in media at the moment. While those in and around the bubble have been obsessing over the dismissal of New York Times editor Jill Abramson, Glass represents much of the world — and possibly the paper's own readers — by just not caring about the inner workings of the place. Below, a condensed and lightly edited version of Glass's conversation with Intelligencer. 
Have you ever been fired?
I am such a do-goody, people-pleasing kid — or I was — I don't think I've ever been fired, not even from an ice cream shop, magician for kids' parties, not even in my early jobs in radio. I was a temp secretary for a long time and I went at it with a passion and I tried to do a nice job in all my jobs. So sorry I'm not helping your angle at all.
Jill Abramson was fired.
I have no idea what you're talking about.
Jill Abramson got fired from the New York Times.
Okay. And she was who?
The executive editor.
Okay. I read the newspaper, but I live in my own little bubble. When did that happen?
Wednesday. And it's been a massive … the blogosphere is going wild.
I hate reading media news so I actively sort of — I'm not interested in someone getting fired. No disrespect to people that are, but I literally had no idea who she was, or that she got fired until this moment.
Really?
Yeah. I live in my own little world and we're putting together a show that we're putting up at the Brooklyn Academy of Music; I was rewriting the thing here at the Peabody's that I'm doing today and we are doing a radio show, so it has been pretty busy. I'm so sorry that was either the worst possible quote or a possibly useful quote. Am I, like, the only person in New York who hasn't heard this?
Maybe.
Well, I take that with pride.
She was the first female editor of the New York Times.
Okay.
It was this big unceremonious firing.
Honestly, like, I'm a superfan of the New York Times, but I know nothing about how they put it together and I really don't care.