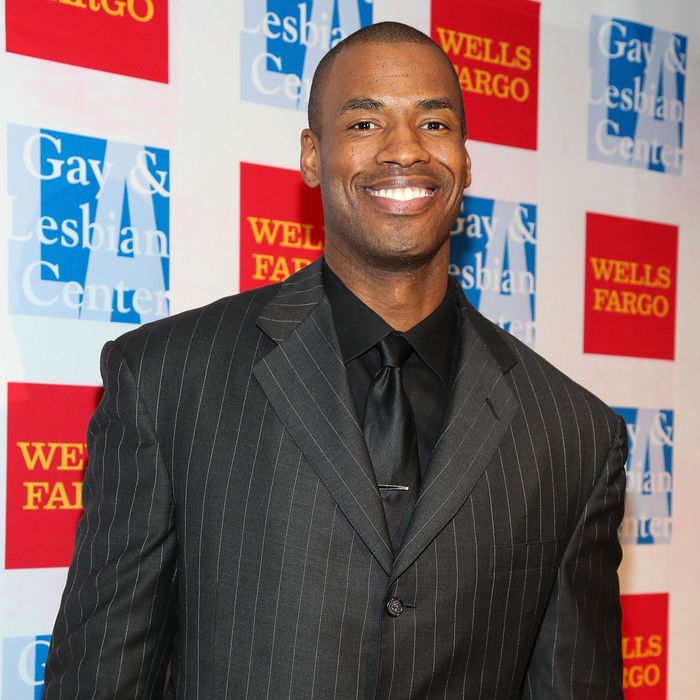 Photo: Imeh Akpanudosen/2013 Getty Images
At last night's Webby Awards at Cipriani Wall Street, Jason Collins said that postponing Michael Sam's OWN docu-series is the right decision for the NFL's first openly gay draft pick. "I think it's very wise that he do everything right now to focus on football, on making the team. I don't know what the demands of the schedule as far as having a camera crew follow you around would be," said Collins. "I think all of us are obviously cheering for him and supporting him so much. But the reality is that he's a drafted player and he still has to earn his way on the team." The St. Louis Rams drafted Sam, a defensive end from the University of Missouri, earlier this month in the seventh round of the draft.
Last spring, after NBA journeyman Collins came out in a Sports Illustrated cover story, he said he turned down six different proposals from camera crews who wanted to document his life, including one from Oprah's network. "I'm extremely honored and thankful that someone has that interest but again it goes back to each person's personal preference," he said. "I understand that I'm in the public eye, and I understand that when I made my announcement, the spotlight would be on me. But for me I like to guard my private life as much as I can … I'm just not comfortable with someone following me with a camera when I go into my house." Collins became the first openly gay player in the NBA this year when he signed two ten-day contracts with the Brooklyn Nets.
Before Sam held a press conference in February to announce that he's gay, he met with Collins, and they've been in touch since. "My instant takeaway was just how comfortable he was with who he is, in his skin. And it's a lot different road than what I went through … It's encouraging to see someone who is over a decade younger than I am just so comfortable with who he is and just living his authentic life."
But does Sam seem burdened by the weight of making NFL history? "He wants to be a football player, which is what it should be and what it is," Collins said, referring to Sam and himself as "members of a fraternity" with other out athletes past and present, such as Martina Navratilova, Billie Jean King, John Amechi, Robbie Rogers, and Brittney Griner. "He's a great young man," said Collins. "I couldn't be more proud of the way that he's handled everything and obviously wish him the best of luck."