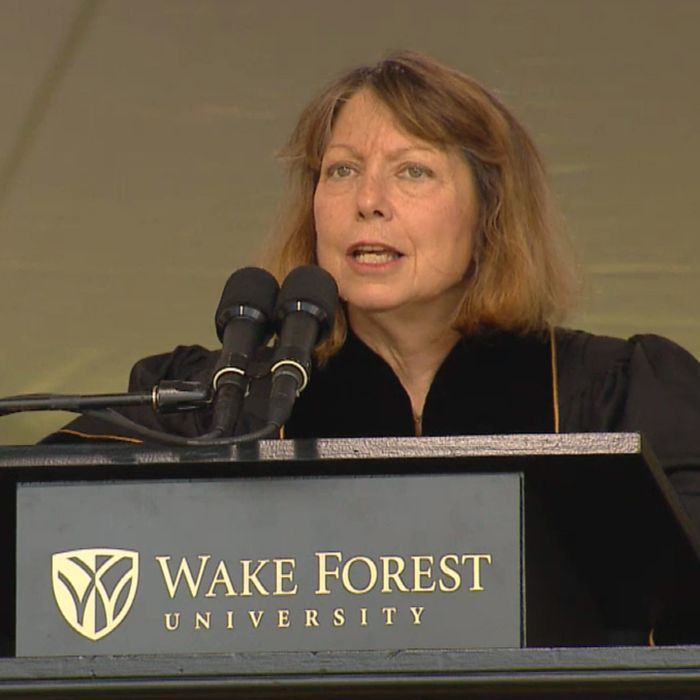 When Jill Abramson was once again called "pushy" this morning, it was meant as a compliment. Introduced by her friend and Bloomberg View columnist Al Hunt, the former New York Times editor, who was unceremoniously fired last week, delivered her first public comments in an address to the 2014 graduates of Wake Forest University. "It is said she can be a tough, no nonsense, even pushy in her passionate commitment to truth and accountability," said Hunt, who described Abramson as "absolutely fearless." That, he said, "is what makes a great editor."
Abramson received an extended ovation and took the podium in good spirits. "I think the only real news here is your graduation from this great university," she said. "I'm impressed that your achievements have attracted so much media attention — as well they should."
Her speech was about "resilience," she said, and was inspired by a call from her sister the day after she was, in no uncertain terms, "fired." As proud as her father would have been to see her appointed the first female executive editor in Times history, "it meant more to our father to see us deal with a setback and see us try to bounce back than how we handled our successes," Abramson said. "Show what you are made of, he'd say."
"I'm talking to anyone who's been dumped, not gotten the job you really wanted, or received those horrible rejection letters from grad school," she continued. "You know the sting of losing or not getting something you really want. When that happens, show what you are made of."
Abramson referenced other challenges she's faced recently, including getting hit by a truck in Times Square seven years ago. "You may begin to call me Calamity Jill, but stay with me here," she said.
"It was the honor of my life to lead the newsroom," said Abramson. "Sure, losing a job you love hurts, but the work I revere — journalism that holds powerful institutions and people accountable … this is the work I will remain very much a part of." ("What's next for me?" she added. "I don't know, so I'm in exactly the same boat as many of you.")
Abramson quoted Robert Frost on knitting projects as unfinished business — "Think of them as akin to your Tumblr — something you can pick up from time to time to change" — and said that after she was sacked, Anita Hill, the subject of her first book, called to say "she was proud of me." As for taking the stage on this idyllic spring morning in North Carolina, "My only reluctance in showing up today was that the small media circus following me would take attention away from you. What total knockouts you are," she said, beaming.
Playing to her young audience, Abramson also mentioned her much-talked-about tattoos. "Are you going to get that Times 'T' removed?" a student asked her before the ceremony. Abramson grinned. "Not a chance!"'