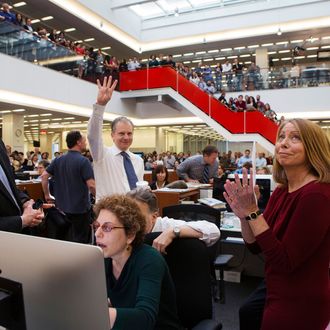 Abramson and Sulzberger celebrating this year's Pulitzers.
Photo: POOL/Corbis
On Monday morning, Arthur Sulzberger called Jill Abramson into his 16th floor office, hoping to avoid just the kind of rancorous war that has engulfed his paper since the announcement of her dismissal. The previous Friday, Sulzberger had informed her that he needed to make a "change," and Abramson spent the weekend contemplating the end of her run as the first female executive editor of the New York Times.
"Have you reconsidered?" she asked Sulzberger, according to a source with knowledge of the meeting.
"No," Sulzberger responded.
Sulzberger then offered Abramson what he wanted her to see as an olive branch. "We want to make this as easy as possible for you," he told her, according to sources with knowledge of the exchange. But Abramson quickly rejected the overture. Sulzberger would not be allowed to couch his move as a bland corporate reorganization. If he wanted her out, he would have to fire her.
"I'm not going to say I'm stepping down," she told Sulzberger.
"She wasn't looking for the usual story," a person in her camp told me. "She's a truth teller."