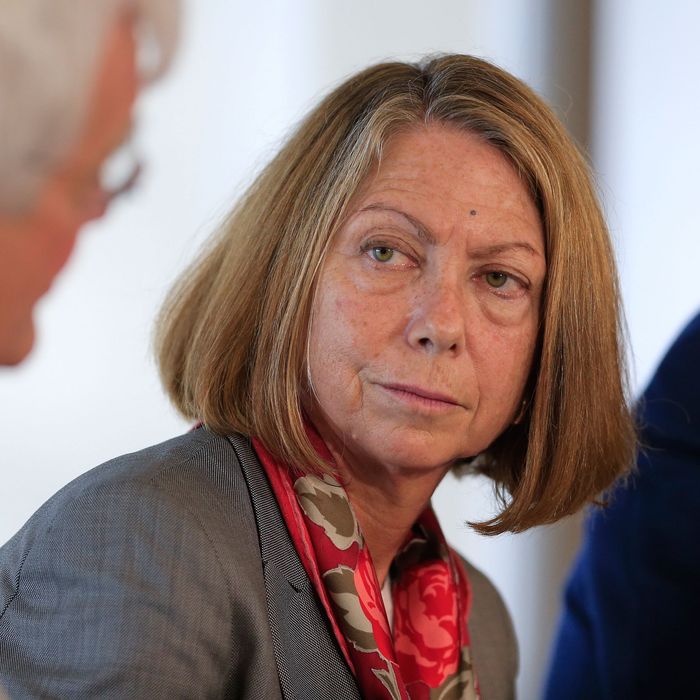 Photo: Andrew Harrer/Bloomberg/Getty Images
In an effort to put an end to the rampant speculation that sexism was behind the New York Times brusque firing of Jill Abramson, its first female executive editor, on Thursday publisher Arthur Sulzberger Jr. sent a staff memo reiterating that his "concerns" about her "management of our newsroom" were the only reason for her dismissal. He also addressed one of the most damning allegations: that Abramson recently learned she was paid less than her male predecessors, and was let go shortly after hiring a lawyer to negotiate the issue with her bosses. While Sulzberger offered vague figures to back up his claim that Abramson's pay was "comparable to that of earlier executive editors," The New Yorker's Ken Auletta has revealed the actual numbers, which suggest that may not be the case. 
Sulzberger noted in the memo that it's true Abramson's pension was less than that of previous executive editors, due to factors such as serving fewer years at the company. But he insisted:
Her pay is comparable to that of earlier executive editors.  In fact, in 2013, her last full year in the role, her total compensation package was more than 10% higher than that of her predecessor, Bill Keller, in his last full year as Executive Editor, which was 2010.  It was also higher than his total compensation in any previous year.
However, Auletta's report suggests that Abramson was paid significantly less than male colleagues, even before she took the top position at the Times:
Let's look at some numbers I've been given: As executive editor, Abramson's starting salary in 2011 was $475,000, compared to Keller's salary that year, $559,000. Her salary was raised to $503,000, and — only after she protested — was raised again to $525,000. She learned that her salary as managing editor, $398,000, was less than that of a male managing editor for news operations, John Geddes. She also learned that her salary as Washington bureau chief, from 2000 to 2003, was a hundred thousand dollars less than that of her predecessor in that position, Phil Taubman. (Murphy would say only that Abramson's compensation was "broadly comparable" to that of Taubman and Geddes.)
It appears the key term in Sulzberger's assertion is "total compensation" — Abramson's salary may have been lower (assuming these figures are accurate), but other compensation such as bonuses and stocks made up the difference. That still leaves many questions about Abramson's pay unanswered, as Auletta notes: "For instance, did Abramson's compensation pass Keller's because the Times' stock price rose? Because her bonuses came in up years and his in down years? Because she received a lump-sum long-term payment and he didn't?"
Auletta writes that Times spokeswoman Eileen Murphy argued that there was no significant compensation gap, but "conceded" that Abramson's recent hiring of a lawyer to press the issue was a "contributing factor" in her firing because "it was a part of a pattern." (Murphy disputed this in an email to Politico, writing, "I never 'conceded' that the issue of a lawyer being brought in to discuss pay was a contributing factor to her firing. It was not, and I never said it was.")
However, now that the world knows Abramson's salary was (allegedly) lower than that of her male colleagues, the sexism allegations will only intensify. Unless it releases a more detailed breakdown of Abramson's compensation, the Times is asking us to trust that in their estimation, there were factors that justified paying Abramson less for doing the same work as a man. 
This post has been updated with Murphy's full statement.