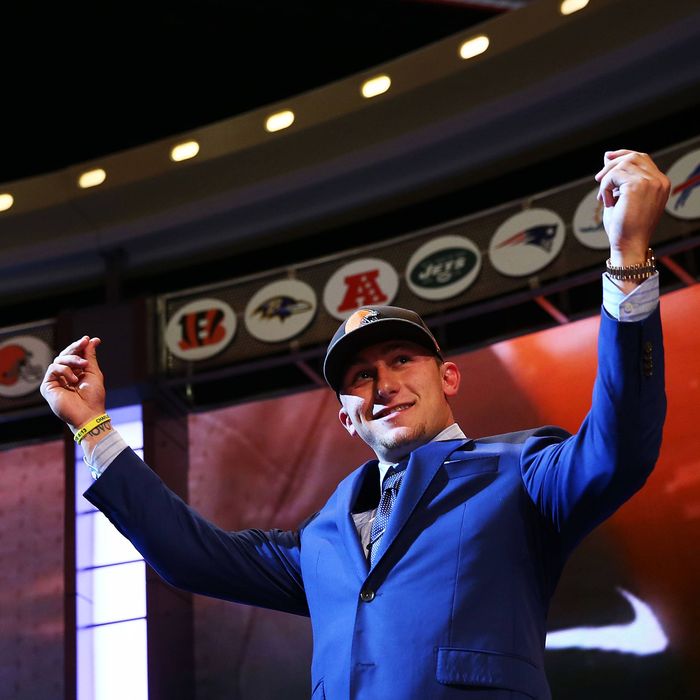 Johnny Football.
Photo: Elsa/Getty Images
This morning, a lawsuit surfaced against NFL draft pick and Drake-loving, rich kid quarterback Johnny Manziel, allegedly filed in Florida by HLN contributor and Dr. Drew co-host Samantha Schacher, seeking $25 million in damages for constant sexual harassment and dick pics. (The address on the complaint is CNN headquarters in Atlanta; the network owns HLN.) But the whole thing is fake.
"It's 100 percent a hoax," HLN spokesperson Alison Rudnick told Intelligencer. "[Schacher] is definitely aware and she's like, 'Wow, yeah, total hoax.' It definitely came as much as a surprise to her as myself or anyone else."
Even for a professional athlete, the details are too insane to be true (and include a lot of jokes about Manziel's allegedly small penis). The lawsuit begins: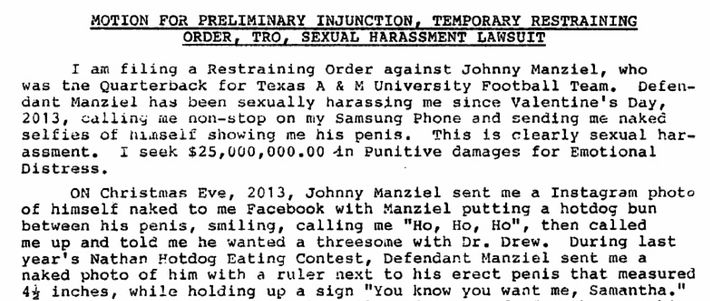 It continues:
Johnny Manziel refers to his penis as his Vienna Sausage and told me good things come from small packages.
And:
Manziel sent me a homemade video of himself at Walt Disney World on "It's a Small World" ride in the Magic Kingdom, and while the song is on, he puts the camera down and unbuttons his pants, pulls his penis out and jingles his penis to the music.
Manziel's agent was desperately hoping it was "1000000% fake," or, you know, at least frivolous (especially the part about "It's a Small World").
He can now go back to enjoying the long weekend.
But here's the whole thing, for comedy: