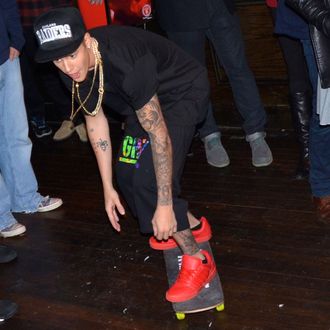 Photo: Courtesy of Amy Pinard Photography
The extra-bleak details of the new Rob Ford relapse and trip to rehab, which center around more crack-smoking on video, are very stereotypically debaucherous, with an extra dash of Canada: A report from the Toronto Star on the beginning of the weeks-long bender includes St. Patrick's Day, a party bus, a club called Muzik, cocaine use, vomiting in a public bathroom, and Justin Bieber. This is what they call rock bottom:
On March 15, an hour before he disappeared into a washroom at Muzik, Ford ran into pop star Justin Bieber in a common area of the exclusive nightclub near Toronto's waterfront, according to witnesses. Ford tried to shake Bieber's hand and became enraged when Bieber jokingly asked him, "Did you bring any crack to smoke?"
"Angered, Ford blustered back to his private booth," the Star reports. (And to think, just a few months ago, the Toronto mayor was defending that little shit.) Later, Ford "disappeared into the washroom at one point, and emerged close to an hour later appearing heavily impaired, babbling that his wife and children do not like him and 'I am in over my head.'"
Ford's life, as described by these reports, are like a kid's idea of living it up, but with more late-night regret: a party bus full of friends, lots of liquor, an exclusive nightclub (called, we repeat, Muzik), and meeting Bieber? It's every 17-year-old's dream. Plus crack.