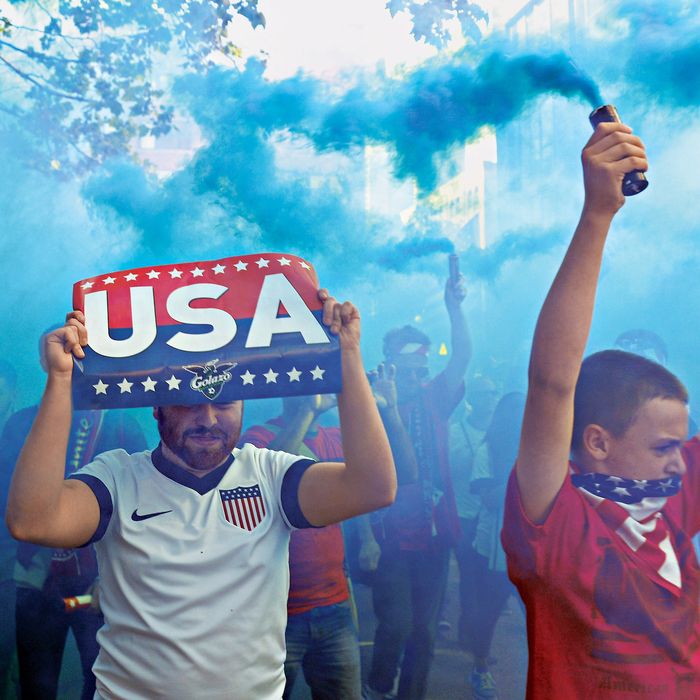 Photo: Joe Klamar/AFP/Getty
On an unusually thick, humid September night in Columbus, Ohio, a short man dressed up like George Washington stopped me as I crossed the street and screamed in my face.
"America! America!!!! Motherfuckin' America!!!! Fuck yeah!!!!"
A man next to him, wearing a Stars and Stripes top hat and an American-flag bandanna that obscured the bottom half of his face, stopped in the middle of the road and unleashed a bloodcurdling shriek. Then: "USA! USA! USA!" A hundred souls, all red, white, and blue, joined him. People got out of cars. Traffic stopped.
Half an hour earlier, the United States men's national soccer team had defeated hated rival Mexico 2-0—dos a cero, as the notoriously taunting chant goes—to clinch a spot at the 2014 World Cup, which begins next week in Brazil. Columbus has been the site of several big moments in U.S. soccer, but this one surpassed them all. "This is a great crowd," U.S. goalkeeper Tim Howard said after the win. "It's become its own monster."
In years past, Mexico—along with other nations in the region—has had distinct and undeniable crowd advantages playing on American soil; USA Today called the 2009 Gold Cup final at Giants Stadium "Azteca North," after the Mexicans' famously raucous home stadium. But not this time. The Columbus stadium was full of 24,000 American lunatics who partied throughout the night. It felt … European.
I've covered every major American sporting event, from the Super Bowl to the World Series to the Final Four to the Winter Olympics. And I have never seen a crowd like the one I saw in Columbus that night. Americans cheer for their athletes to succeed in the Olympics and other international competitions, but we generally recognize that these international competitions aren't as important to us as our professional teams. (The Knicks will always matter more than the Dream Team.) But there was nothing obligatory about those fans in Columbus at all. This was more than passion; this was people rallying around a cause. These were zealots. Zealots for America.
Look, I know: Every four years, someone comes around telling you that this is the year, really, for real, that soccer breaks through in America. (Grantland's popular Men in Blazers podcast's motto is "Driven by the belief that soccer is America's Sport of the Future. As it has been since 1972.") But this time I mean it: Soccer is about to explode in America, and the U.S. soccer team is an indie band right before they break out. It's hipster patriotism.
Seven years ago, two kids from Lincoln, Nebraska, who loved soccer, Korey Donahoo and Justin Brunken, realized that every time they went to a U.S. game, they had the darndest time finding, well, U.S. fans. Unlike fútbol boosters around the world, the U.S. men's national team (USMNT) had no organized fan group, no established group of supporters that would follow them anywhere. So Donahoo and Brunken decided to start their own. They called themselves the American Outlaws. 
Today, the American Outlaws have 127 chapters across the country—including American Outlaws Central Jersey and American Outlaws Bloomington­-Normal—and more than 18,000 members. They have become among the most vocal, fastest-growing soccer-fan groups in the world, chartering two planes to the World Cup this year and playing a prominent role in ESPN's promotion of both the U.S. team and the network's mammoth, monthlong coverage of the event. The New York City chapter, one of the largest in the country, is based at Jack Demsey's in midtown. The first U.S. game is June 16, against Ghana. It'd be wise to get in line outside right now.
For decades, the USMNT has been considered the sleeping giant of the international soccer scene, and soccer the sport everyone tells you will someday conquer America, but never does. But soccer doesn't need to conquer America in order to become huge here; it just needs to keep momentum. Premier League soccer ratings have been through the roof recently, thanks in large part simply to increased access. Niche culture has allowed obsessives to spread the word—and find each other—more easily than ever. (In a wired world, Manchester is just down the street from the Garden.) And, at last, youth soccer—the suburban mom's sanitized but undeniably ubiquitous version of the world's game—is finally crossing over into mainstream sporting culture. Those kids carted from van to field as parents yawned in lawn chairs from the sidelines … they're becoming young adults, with expendable income. And they're watching soccer: If you turned on NBC the last Sunday of the Premier League season expecting to see Meet the Press, you were greeted instead with Manchester City versus West Ham. Even more amazing, that weekend you'd have found Premier League games on NBC Sports, Bravo, even Oxygen. The ten-channel soccer barrage almost doubled the previous record. Recently, the much-maligned MLS signed a $90 million­–a–year collective television contract—more than four times bigger than the current deal. As always, Americans are speaking with their wallets.
And those in charge of the USMNT are taking advantage. Coach Jurgen Klinsmann—who won a World Cup as a player for West Germany in 1990 and coached unified Germany to third place in 2006—has talked openly about changing the whole soccer culture in the United States; the goal isn't to win the World Cup this year, but to build a foundation for many future championships … and a future national obsession. "Americans want special moments," Klinsmann has said. "They want the Olympics. They want the Super Bowl."
Which brings us to this year's World Cup. To be honest, it is unlikely that the United States is going to be all that successful. They're saddled with the Group of Death, Group G, featuring Germany (which has finished in the top four of the past three World Cups), Portugal (which has perhaps the best player in the world, Cristiano Ronaldo), and Ghana (which eliminated the U.S. from the 2010 World Cup in the Round of 16). If the USMNT makes it as far as they did last time, it would be a massive upset. But this year in particular isn't the point, not with the number of eyeballs expected to be watching. (This is the last year of ESPN's World Cup contract; Fox and Telemundo paid as much as a combined $1.1 billion to air the 2018 and 2022 games.) If the U.S. team is successful, that's excellent, but it's not entirely necessary. Those in charge of U.S. soccer have already extended Klinsmann's contract past the World Cup, to make it clear: This is about more than just one World Cup.
And this might be the last time the U.S. team is less talented than the traditional soccer powers for a while. More and more U.S. players (like Tim Howard and Clint Dempsey) have proved themselves in ­England; still more have found great growth opportunities in lesser European leagues (Jozy Altidore and Aron Johannsson in Holland, Mix Diskerud in Norway), and the quality of play in the MLS has increased dramatically over the past decade. (There's no better sign of how confident Klinsmann feels about the team's future than his decision to leave American legend Landon Donovan off the World Cup roster; he's cutting ties with the past to secure the more promising future.) Perhaps most encouraging: Through Klinsmann's diligence, young players with U.S. citizenship, or a claim to it, are choosing to play for the U.S. rather than other nations. Just this year, Julian Green (Bayern Munich) has committed to the American side, and Gedion Zelalem (Arsenal) is rumored to be not far behind, a terrific sign and one that's generally unprecedented on the world stage.
This year, we're the underdog, though, which is exactly where we should want to end up. The USMNT is what Americans imagine ourselves to be: less skilled but determined, and, without question, on our way up (a cultural self-conception everybody else in the world would laugh at). There are constant hints everywhere that ours is a nation if not in decline, at least not ascendant. In soccer, though, we can play that role: We are a guerrilla soccer nation. Let us all be hipster patriots.
*This article appears in the June 2, 2014 issue of New York Magazine.