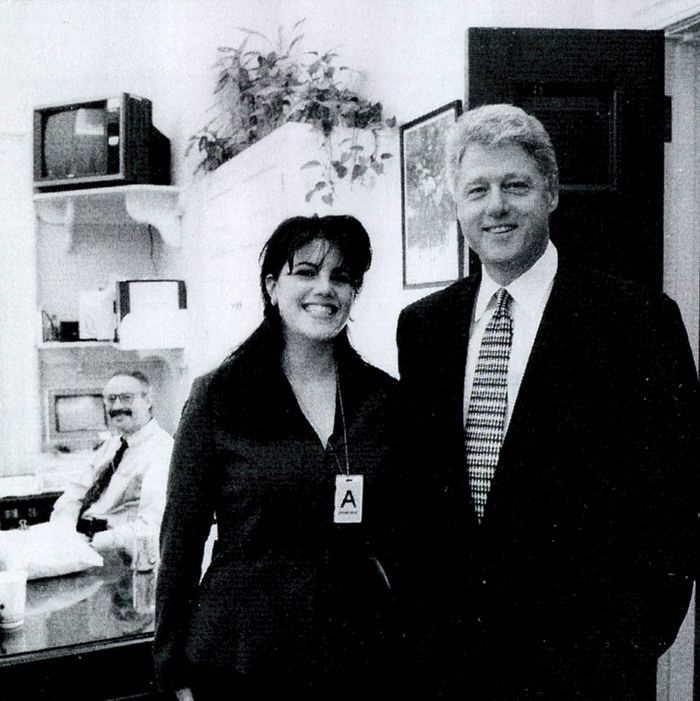 With Hillary Clinton's 2016 presidential campaign looming, it was only a matter of time before America started flipping through its scrapbook of Clinton administration scandals. Now, Monica Lewinsky is kicking things off a bit early with the release of her Vanity Fair essay on Thursday. Just in case the magazine doesn't provide lengthy life updates from every Monicagate figure in the next few months, here's a look at what's become of the major players. You may be surprised to learn who opened a Christmas-themed store, became president of a university, and appeared on The Good Wife (though you could probably guess that it wasn't Ken Starr who lost a Celebrity Boxing match to Tonya Harding).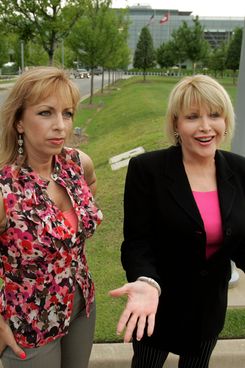 Paula Jones
If Paula Jones hadn't filed a sexual harassment lawsuit against Bill Clinton in 1994, a generation of young Americans might not have learned the definition of "oral sex" at an inappropriately early age. Monica Lewinsky was one of several women subpoenaed by Jones's lawyers in an attempt to show that the president had a pattern of becoming sexually involved with employees. In their depositions, Lewinsky and Clinton both denied their affair, leading to perjury allegations. (Clinton later explained that he thought the legal definition of "sexual relations" excluded receiving oral sex.)
The case was settled out of court, with Clinton agreeing to pay Jones $850,000 in 1998. Most of the money went to attorneys' fees, and in 2000, Jones posed for Penthouse, explaining, "I'm a single mother now with two little boys that I really need to support." In an appearance on The View that year, she explained that doctors offered to perform her rhinoplasty for free, and described the "distinguishing" characteristics of the president's genitalia.
She remarried in 2001, and lost a Celebrity Boxing match to Tonya Harding the next year. In 2011, the Arkansas Times reported that she is now "a quiet suburban mom with a job in a medical office."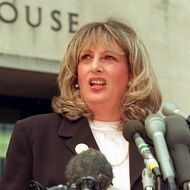 Linda Tripp
Whistle-blower and/or world's worst friend Linda Tripp began secretly recording phone calls in which Lewinsky discussed her relationship with the president, and encouraged her to keep the infamous blue Gap dress. In 1998, she turned the tapes over to Independent Counsel Ken Starr, recorded conversations with Lewinsky while wearing an FBI wire, and revealed that Lewinsky encouraged her to commit perjury in her Jones v. Clinton testimony.
After the Clinton years, Tripp sued the Defense Department for violating her privacy by releasing personal information to the media, and settled for $595,000. In 2002, she revealed on 20/20 that she had plastic surgery (watch the cruel E! breakdown here), and a year later she told the Associated Press that she had beaten breast cancer. Tripp reconnected with a childhood friend who had been her first kiss, and he became her second husband. They own a Christmas store in Middleburg, Va. that has mixed reviews on Yelp.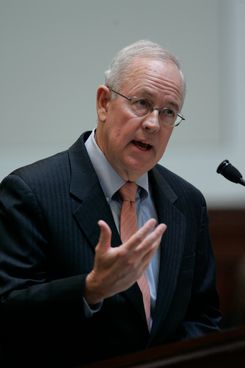 Ken Starr
In 1994, the former federal judge and U.S. solicitor general took over as the independent counsel investigating Whitewater. He investigated various other Clinton scandals before learning about the Lewinsky affair. This culminated in the Starr Report in September 1998, which accused Clinton of committing perjury and led to the president's impeachment. 
After Clinton's acquittal by the Senate, Starr resigned from the Office of the Independent Counsel and returned to private practice. Over the years, he has been involved in a number of high-profile cases, representing supporters of California's Proposition 8 and Blackwater International in a case involving the deaths of four civilians in Iraq. He was named dean of the Pepperdine University School of Law in 2004 and has served as the president of Baylor University since 2010.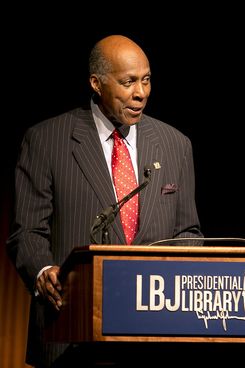 Vernon Jordan
The lawyer, business executive, civil rights activist, and "quintessential" Friend of Bill tried to help Lewinsky find a job in the private sector around the time when she left the Pentagon and learned she would be subpoenaed in the Jones case.
In 2003, the government denied his request to be reimbursed for the $302,719 he spent to defend himself during the Starr investigation. Jordan has served on the board of many companies, and is the senior managing director of the investment banking firm Lazard Freres & Co. He has remained active in Democratic Party politics, and made a cameo on The Good Wife in 2010.
Bill Richardson
When he was United Nations ambassador, the White House asked Bill Richardson to interview Lewinsky for a job on his staff. He offered her a position, which she turned down. Richardson went on to serve as the governor of New Mexico from 2003 to 2011, and ran for president in 2008. After dropping out of the primary, he endorsed Barack Obama rather than Hillary Clinton. She and Richardson would have served together in Obama's first term cabinet, but he withdrew his nomination as commerce secretary following a federal "pay-to-play" investigation.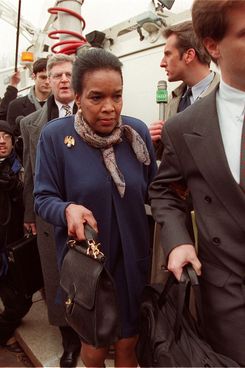 Betty Currie
Bill Clinton's former personal secretary arranged meetings between Clinton and Lewinsky, asked Vernon Jordan to help Lewinsky find a job, and at one point went to the intern's home to retrieve dozens of gifts from the president. After leaving the White House, the Clinton's cat Socks lived with Currie and her husband in Maryland, until the cat was euthanized in 2009. Currie was appointed to the Alcohol and Beverage Board of St. Mary's County in 2008, and answered phones for John Podesta as part of President Obama's transition team in 2008.
Lanny Davis
After serving as President Clinton's special counsel/spokesman during the scandal, Davis became a lobbyist and launched his own firm with Republican National Committee chairman Michael Steele in 2012. He is also a Fox News Contributor and has a weekly column called "Purple Nation," which appears in The Hill, The Huffington Post, The Daily Caller, and Newsmax.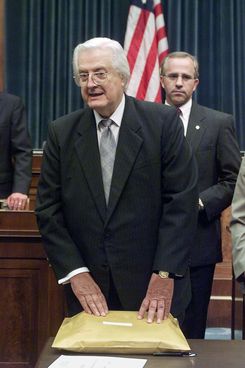 Representative Henry Hyde
As chairman of the House Judiciary Committee, Illinois Republican Henry Hyde led the push to have Clinton impeached. He was embarrassed when it was revealed during the impeachment proceedings that he had an extramarital affair in the '60s. Hyde dismissed it as a "youthful indiscretion," though he was 41 at the time. He said the matter before Congress was "not a question of sex," but "a question of the willful, premeditated, deliberate corruption of the nation's system of justice."
Hyde retired in 2007 after serving in Congress for 32 years. He died the next year of complications from heart surgery at 83.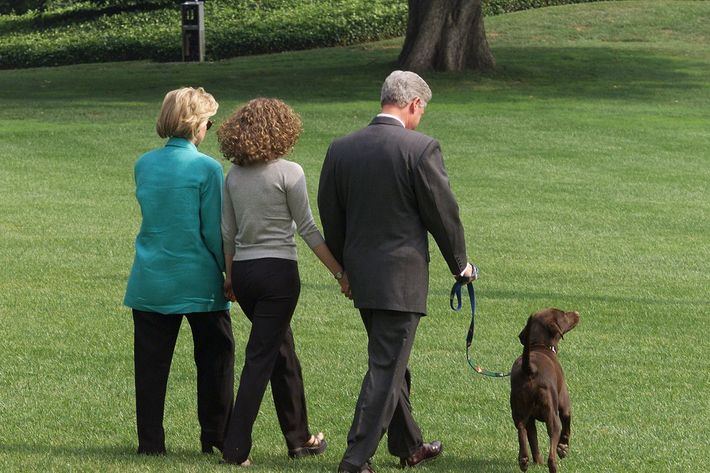 Buddy the Dog
Buddy arrived at the White House in December 1997, sparking accusations that the Clintons only adopted him to distract from the scandal. (As we've all been informed, Clintons can't even decide to reproduce without a political motive.) The chocolate lab appeared in the historic photo of Chelsea Clinton walking between her parents as they embarked on a tremendously awkward vacation, shortly after the president told the nation that his relationship with Lewinsky was inappropriate and "wrong." Buddy was killed by a car in 2002 while "playfully chasing a contractor" leaving the the Clintons' home in Chappaqua, New York.