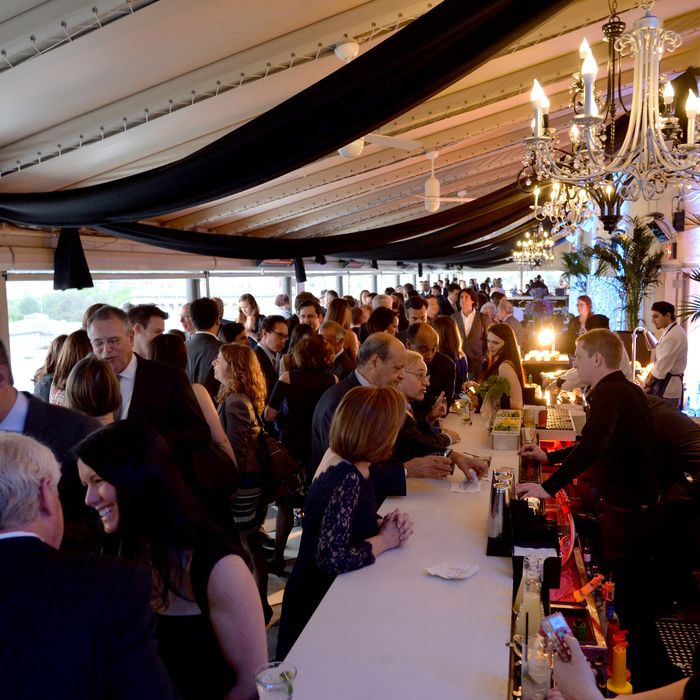 Photo: Andrew H. Walker/2014 Getty Images
New York has the Met Ball, L.A. has the Oscars, and Washington has the White House Correspondents' Dinner. But D.C. might be the only town where a partygoer enjoying cocktails in the shadow of the Washington Monument will also tell you that the whole thing is a bunch of corporate- and celebrity-driven drivel that takes everyone away from their otherwise Very Important Jobs.
In years past, Tom Brokaw and Christopher Hitchens have proudly played the event's party pooper. This Town author Mark Leibovich is the latest to criticize the weekend of passed plates, free champagne, tough doors, Hollywood types, and unexplainable lighting decisions.
Daily Intelligencer caught up with Leibovich last night at the New Yorker party at Washington's W Hotel. He's on a paperback tour for This Town, and still hopes that D.C. will get over its decadence.
"I would hope that it would be some kind of pivot point in which Washington maybe collectively comes to a point of self-awareness that maybe this looks awful, maybe it's excessive, maybe two or three or dozen parties, after parties, brunches are not necessary," Leibovich told Daily Intelligencer.

"Basically, this is just part of the disconnect between the self-celebration of Washington and the revulsion that people outside of it feel for the major institutions here, i.e. the media, i.e. Democrats, Republicans, Congress, lobbyists, whatever. And the disconnect between incredible prosperity and wealth and, frankly, decadence that has grown up here in the last couple of decades, and the very real economic struggles that the country has had in the last six years."

Leibovich said this would probably be his only party this weekend. (He explained that he was not invited to the tony Tammy Haddad brunch after the event made an appearance in the book.) But he told us what to expect: "One thing that you always at a weekend like this is, 'Oh, I can't believe we are all back here again,'" Leibovich says. "There's a grudging acknowledgment of the soul-crushing sameness of these weekends… But this looks a little more B-listy than it's been in the last decade. So that's a good sign."