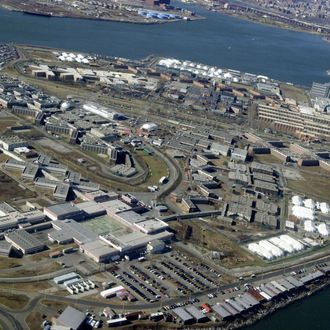 Photo: Todd Maisel/NY Daily News Archive/Getty Images
Back in March, the Associated Press reported on the case of Jerome Murdough, a mentally ill veteran who left to "bake to death" in his overheated Rikers Island cell. On Thursday, the news service ran another story about a mentally ill inmate dying at the New York prison after not receiving proper care, and it is somehow even more horrifying.
The AP reports that 39-year-old Bradley Ballard, who had been diagnosed with schizophrenia and diabetes, was found in his cell "naked and unresponsive" and covered in feces five months before Murdough's death. A Houston native, Ballard spent six years in prison for assaulting two people in New York before returning to Texas, where he was arrested for punching and exposing himself to a bus driver. He was sent to Rikers for not informing his parole officer that he had left the city. He was placed in a 30-bed mental health observation unit there, but he ended up continuously locked in his cell for seven days after he "rolled up his shirt to look like a penis and thrust it toward" a female guard.
Board of Correction executive director Cathy Potler confirmed that Ballard was not given his medication over the course of those seven days. (The exact type of medication he needed was unclear.) During that time, he intentionally flooded the toilet and sink (which resulted in water to his cell being cut off), stripped off all his clothes, and tied a rubber band around his genitals, which resulted in an infection. Though guards looked into Ballard's cell "dozens" of times a day, mental health staffers only visited him one time that week, even though they are supposed to do so twice a day. (Meanwhile, none of the 53 officers overseeing Ballard's unit had done a mandatory annual refresher course on dealing with mentally ill prisoners.)
By the time medical personnel were called to Ballard's cell, he was too weak to move on his own, and later died at a hospital, likely from sepsis. Correction Officers Benevolent Association president Norman Seabrook blamed the situation on "non-communication between medical staff and uniform staff." On Wednesday, Correction Department spokesperson Robin Campbell said that mental health and prison officials are taking measures to ensure "that a similar tragedy will not happen again."
But, as Yale psychiatrist Bandy Lee, who has studied the treatment of mentally ill prisoners, told the AP, "Correctional institutions are such a poor substitute for mental hospitals, which is what they're basically functioning as in our society. The problem is the correction setting is not fit to deliver the proper care, and in fact many of the settings exacerbate their symptoms."