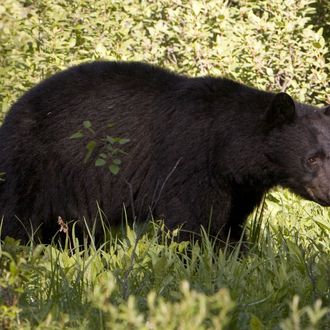 Photo: George Rose/Getty Images
Donna DiMino lived one of Carmela Soprano's nightmares on Sunday when she returned to her West Milford, New Jersey, house and discovered that a female black bear had ripped through her front door and "ransacked" the place. "I saw it running with a bucket of birdseed in its mouth," DiMino told CBS 2. "There were no claw marks. I didn't see any claw marks. There was just the garbage scattered around the home." A spokesman for the state EPA said that officials called to the scene decided to shoot the bear because she was "no longer fearful of people" and her tags showed that she had broken into houses in the past.
This is where the story goes from scary to sad: After being shot, the bear ran outside, where she later died. Officials say that they found two cubs "clinging" to her body, while a third had climbed about 50 feet into a oak tree. The morning after the first two baby bears were captured, a tree service had to be called in to retrieve their sibling, and someone was able to capture him using a bucket truck and a net. The furry orphans are being cared for by a bear rehabilitator who will release them into the wild in a few months.