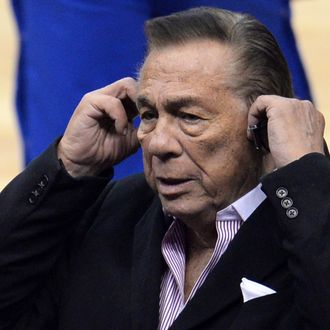 In yet another leaked recording (this one obtained by the Daily Mail), thoroughly disgraced Clippers owner Donald Sterling again says that he has no plans to comply with the NBA's effort to force him to sell his team, and that he'll somehow take the fight to the Supreme Court if necessary. "My lawyer is telling me there's not a chance in the world that anybody can make you sell your team and if they ever could it would take 20 years of litigation," the racist 82-year-old tells a "friend" identified as Maserati.
Sterling, a billionaire, also says that his lawyer has deemed the $2.5 million fine the league has ordered him to pay "excessive." "For what?" he demands. "For trying to get a girl hot and make it with her?" (Not exactly!) "Well, let's see. If the Supreme Court of the United States … deems that it's excessive that it's unfair then they'll reduce it," he muses.
Elsewhere in the conversation, which the Daily Mail says was taped "four or five days" after his argument with V. Stiviano about whether black people were allowed on her Instagram was released to the public, Sterling complains about President Obama's decision to address the controversy while visiting Malaysia. "Why would [Obama] make a comment without talking either to Magic or somebody here?" he asks. "Or review the papers. I think that was such bad judgment on his part to make a flippant comment from Malaysia. Wasn't that? How does he know what the facts are?" For those who forgot, one of the things Obama said while speaking about Sterling was, "When people — when ignorant folks want to advertise their ignorance you don't really have to do anything, you just let them talk." But, really, how much longer do we need to keep listening?