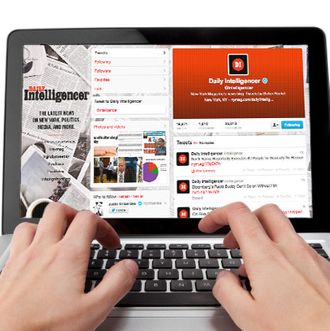 Welcome back to the New York Magazine Competition. On alternate Mondays, we lay out a challenge and offer a sample responses. Enter in the comments section, or on Twitter with the hashtag we've provided, and the editors will select a winner. Criteria are highly subjective, but heavily retweeted and favorited posts will have an advantage. The prize is a year's subscription to New York in print or a two-year subscription to the iPad edition (winner's choice). Full rules are here.
COMPETITION NO. 22: WHEN PEOPLE GET VERBED. Please offer a new verb based on the name of a well-known individual. For example:
gehry: to realize, while crumpling up the foil wrapping from one's lunch, that an idea is owed to the client in five minutes.
solange: to abruptly become more famous than your better-known relatives.
walters: to convert early ridicule into late-life respect.
Enter on Twitter with the hashtag #PeopleAsVerbs, or in the comments thread below, by May 28.
RESULTS OF COMPETITION NO. 21: BROOKS, DOWD, FRIEDMAN, ET AL., in which you were invited to invent a passage written by one of the New York Times' star columnists.
HONORABLE MENTION TO:
"I am pleased Mitt Romney has broken ranks with other members of his party and supported increasing the minimum wage; now if only he would support a ban on transporting dogs on the top of cars I would be completely content." —Periclescrystal
"There was a time when ours was a humbler nation, more in tune with its emotional self, less interested in the material possessions of others. In short, this golden age of humility was one where the national character was more, shall I say, Brooksean."—JonBellish
"Davos! Davos? Davos, 'Davos.'
"Davos.
"DAVOS."    —legsus4
"In the Arab world, nothing is as it seems and in the American world, everything seems as if it's nothing." —@CBTamarin  
"Orange is the new black, but it's a different JB who's pilfered the prez's place in the sun. Speaker Johnny may have been the target at the Correspondents powwow, but its Guvvy Jeb B gleaming in the sunshine state. And for Bush, that Florida OJ is worth the presidential squeeze." —ppleb
"I'm convinced Bill asked GW to paint Hillary like one of Sarkozy's girls." —dinosgoroar
"It was only after a conversation over chicory coffee and beignets at the Cafe du Monde with two technology-weary police officers that I realized: Time really is a flat circle." —psybab
"Hill's at war; vicious oval of ambition vs doting grandma dotage. Will Monica Redux push her past pantsuit to sweatsuit?" —@MadKane
"We're living through the Snapchat era, our limited fame fading away after just a few, tumultuous seconds." —@DannyGroner
AND THE WINNER IS:
"It was as a young boy, no more than 15, struggled to haul my corpulent frame through the streets of Kuala Lumpur on a rickshaw, that it struck me: It really is turtles all the way down." —CaptServo