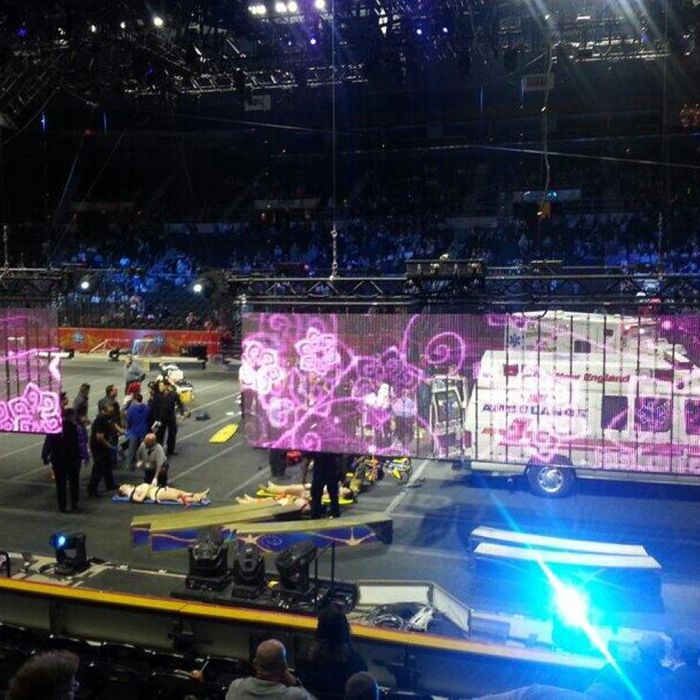 Fifteen to 20 circus performers were hurt — nine of them seriously — during a Saturday afternoon Ringling Bros. and Barnum & Bailey Circus performance in Providence, Rhode Island. According to the Providence Journal, the acrobats who sustained the worst injuries were doing "a hair-hanging act" when they fell from a height of 25 to 40 feet. The cause of the accident isn't yet clear. "Obviously, something went wrong," Providence Public Safety Commissioner Steven Paré told reporters.
A witness who spoke to the Associated Press said that a platform fell as it approached the ceiling of Providence's Dunkin' Donuts Center arena. "It just went crashing down," she said. "Everyone was freaking out. We heard this huge clatter and then we just heard the girls scream." Of course, a spectator captured the chaotic scene on video. (Toward the end, you can hear the person using snacks to try to distract a worried child):
A Ringling Bros. representative told reporters, "Everybody's conscious. Everybody's doing well. We ask everybody to pray for the girls." Another witness told the Journal that he saw one of the injured performers "[wave] to the audience" as they were wheeled off in a gurney.