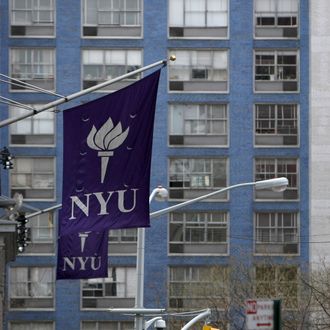 Photo: Bloomberg/Bloomberg2010 Bloomberg
New York University has been informed that writing a "statement of labor values," promising fair treatment for all in the construction of its outpost in the United Arab Emirates, does not make it so. After the New York Times reported deeply on the litany of abuses against workers — low pay, high recruitment fees, squalid living conditions — the "global" university says whoops: "To any worker who was not treated in line with the standards we set and whose circumstances went undetected and unremedied, we offer our apologies," said spokesperson John Beckman in a statement.
NYU President John Sexton, the man who struck up a partnership with Abu Dhabi's royal family, called the treatment "if true as reported, troubling and unacceptable … They are out-of-line with the labor standards we deliberately set for those constructing the 'turn-key' campus being built for us on Saadiyat Island and inconsistent with what we understood to be happening on the ground for those workers." (Most worked for contractors, not the university directly.)
The apologies are all well and good on the PR front, but as one worker, waiting more than a year for his last six months of pay, told the Times, "When will the money come? If the money comes it will be O.K." Sorry doesn't feed a family.