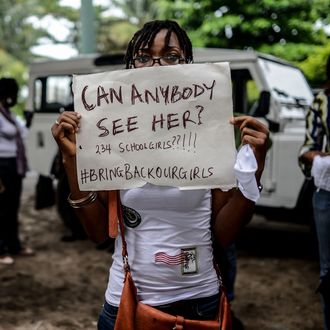 Photo: Mohammed Elshamy/Anadolu Agency/Getty Images
As more Americans continue to turn their attention to the roughly 200 female students kidnapped from their school in Nigeria several weeks ago by the  terrorist group Boko Haram, President Obama and John Kerry announced that the United States will commit law enforcement and military resources to the effort to find the young women. "We're going to do everything we can to provide assistance to them," Obama told reporters Tuesday.
Meanwhile, Kerry, who has spoken directly with Nigeria's president, Goodluck Jonathan, offered some details on what that assistance will look like. "Our embassy in Abuja is prepared to form a coordination cell that could provide expertise on intelligence, investigations and hostage negotiations and to help facilitate information-sharing and victim assistance," he said. "And we are immediately engaging in order to implement this."
Intelligence officials who spoke to NBC News said that the FBI would be heading up the effort, though the Office of the Director of National Intelligence might also offer "help with satellite imaging and electronic eavesdropping." Unarmed drones could also be used to search for the girls, though the officials were sure to stress that the American technology was "no guarantee" that they would be brought home safely.
When asked why the United States had not offered to help Nigeria sooner, Kerry "bristled," saying that, "We have been in touch from Day One … but the (Nigerian) government had its own set of strategies in the beginning." He added, "I think now the complications that have arisen have convinced everybody that there needs to be a greater effort … I think you're going to see a very, very rapid response." Better late than never.