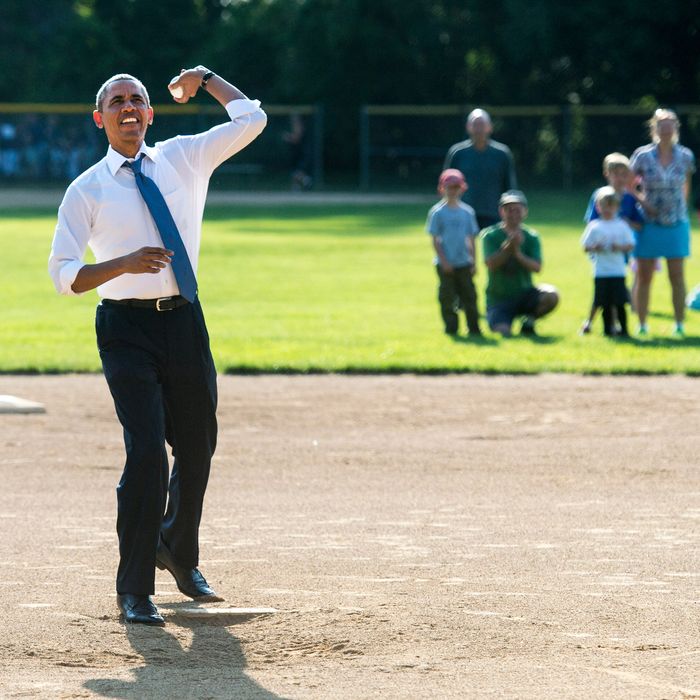 Not the best form. We'll blame the dress shirt.
Photo: Kevin Dietsch/Getty Images
Upstate New York is not much of a destination for U.S. presidents while in office. "In fact, the last sitting president was Martin Van Buren in 1839 came to Cooperstown and I think that's it," said Mayor of Cooperstown Jeff Katz, ahead of Barack Obama's visit on Thursday. And that was before the village's biggest attraction, the Baseball Hall of Fame, was built. Ahead of its 75th anniversary this summer, Obama will stop by — becoming the first active president to do so — for a speech on tourism, because there are apparently other options in this state besides the city.
"Believe it or not, tourism is an export," Obama said while announcing the trip. "If we make it easier for more foreign visitors to visit and spend money at America's attractions and unparalleled national parks, that helps local businesses and grows the economy for everyone."
Cooperstown is thrilled. "The fact that a sitting president has not visited here in our first 74-plus years, it was surprising to get the call, but exciting to realize that the chief executive would be delivering a speech on tourism from a place that thrives on it," said Hall of Fame president Jeff Idelson.
Getting in the spirit, the owner of the local distillery said, "It came out of left field. I think it's fantastic," but added, "It's a great Americana story, an iconic village, as Norman Rockwell as it gets, the home of baseball, Abner Doubleday, the whole nine yards," he concluded, mixing up his sports metaphors.
Local business owners are just hoping Obama, who will be joined by Governor Andrew Cuomo, makes a few more stops around town. "We're hoping since we are Shoeless Joes and we are related to Chicago, with Shoeless Joe being a White Sock, that Mr. Obama would be kind enough to pop in here, and we'll show him all our White Sox stuff we have," said store owner Joe Cannata.
Back in the day, Van Buren used his trip to get in touch with nature, reports The Freeman's Journal, the county's oldest newspaper:
Security surrounding the modern president may prevent what happened to Martin Van Buren, who, at the end of a 'large evening reception' in his honor in 1839 at Woodside Hall, became lost in the Greek Revival mansion's large gardens at 1 Main St.

He 'wandered about the grounds for a long time,' according to Birdsall's The Story of Cooperstown, 'finally coming back to the house just at the family were going to bed, for "a guide and a light."'
But as long as Obama doesn't have to throw a pitch, everything will be just fine.