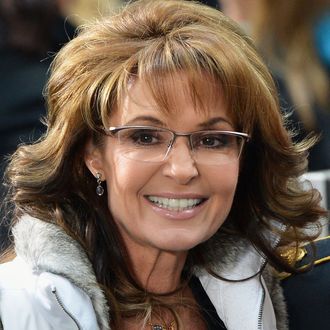 Photo: Slaven Vlasic/Getty Images
A week after Karl Rove set off a round of partisan bickering by suggesting that Hillary Clinton might have suffered a "traumatic brain injury," Sarah Palin has weighed in on Facebook, saying that Democrats who suggest it would be "unfair, unethical, and absolutely UNPRECEDENTED" for the media to cover the scouring of a female candidate's health records have a short memory. Recalling the questions that swirled about whether Trig was actually her baby, Palin quips, "Goodness, no one credible would print lies, continually harass a candidate's doctor, disrupt local hospital staff, or even offer to pay locals to give 'quotes' about her health records to be included in a 'research book' by a public university professor (your tax dollars at work?) which the candidate's attorney will need to respond to." That does sound horrible, but sexism in politics isn't what's upsetting Palin.
"Thank goodness liberals are consistent in refusing to apply double standards, thanks to their disdain for hypocrisy – so they'll come through once again!" Palin writes. "Rest assured these self-designated protectors of what they obviously believe is the 'weaker sex' needing protection in the political arena will elevate political discourse. Apparently, Democrats demand their next chosen one's brain must be absent. Opposition – go there exploring a liberal's brain and you find nothing; or, find something and you're just trying to distract voters from the REAL issues."
So despite being subjected to invasive and unfair questions about her own health, Palin doesn't have a problem Republicans doing the same thing to another female candidate. She's just angry about the hypocrisy of her old foe, the lamestream media, and thinks Democrats should accept that speculation about Hillary's "brain injury" is fair game.
Here's the full post: