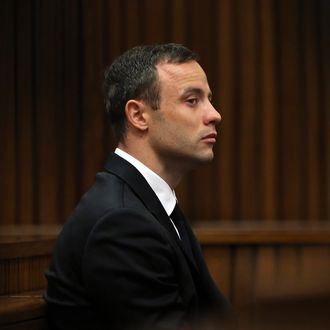 Photo: Themba Hadebe/AFP/Getty Images
The murder trial of Oscar Pistorius, which was expected to last three weeks but has been going on for over two months, will now drag on even longer. On Wednesday, Judge Thokozile Matilda Masipa ordered Pistorius to undergo a 30-day mental health evaluation after a psychiatrist testifying for the defense said that the Olympic runner suffered from a generalized anxiety disorder.
Merryll Vorster, who has interviewed the athlete twice, told the court that:
[The condition] dated to the amputation of both legs below the knee when Mr. Pistorius was only 11 months old. He had grown up in an atmosphere molded by the frequent absences of his father and the anxieties of his mother, who was so nervous about intruders getting into her home that she slept with a firearm under her pillow.

The condition, which had worsened with time, had made him "hypervigilant" to detect potential threats and had led him to develop a response to perceived danger that led to him to "fight" rather than "flight."
According to Judge Masipa's ruling, Vorster's testimony raised the question of whether Pistorius's supposed disorder affected his ability to "act in accordance" with his knowledge of right and wrong when he shot girlfriend Reeva Steenkamp through the door of his bathrrom. (Pistorius claims that he thought Steenkamp was an intruder.) The psychiatric evaluation was actually requested by the prosecution, which hopes to counter the defense's late-in-the-game argument that Pistorius's mental health played a role in Steenkamp's death.
Pistorius has frequently appeared shaken throughout the trial, and has sobbed, covered his ears, and even vomited during testimony. Whether his behavior is evidence of anything other than a reasonable amount of guilt over having killed another person is unclear.