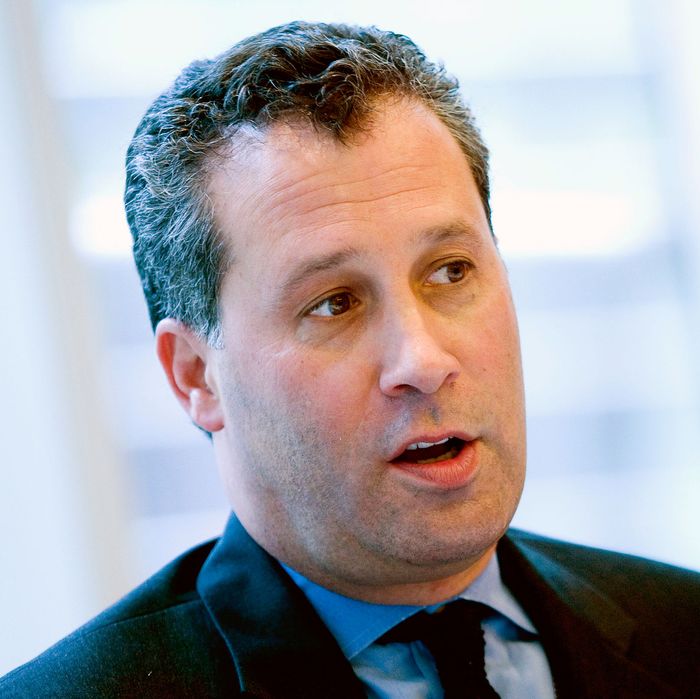 Photo: Andrew Harrer/Bloomberg via Getty Images
When it was announced last week that the New York Public Library was suddenly scrapping its ambitious and embattled plan to gut-renovate its iconic central branch and move many of its books to New Jersey, we had a lot of questions. Did the reversal have anything to do with the turnover at City Hall from development-happy Bloomberg to de Blasio, who'd protested the so-called Central Library Plan as public advocate? If ballooning cost estimates were the culprit, as library president Tony Marx conceded, how much had they risen from the projected $300 million, and why did it take an independent survey to discover that? What would eventually be done with the library stacks, which remain intact but unusable? Marx, who's made the renovation a keystone of his tenure at the library, agreed to our Q&A, but only by email, and only after the questions were severely pared down. In the intervening week, he's kept many interviews off the record and limited extensive comment to an essay in the Library Journal — a smooth blend of calm explication and revisionist history that, like the planning itself, falls a little short of real transparency. 
Here, unedited, are the answers he gave us late yesterday.
What is the primary reason you've dropped the Central Library Plan so suddenly, after seeming so committed to it for so long?
We've always had three goals for this project: creating an improved space for our largest circulating branch, Mid-Manhattan, providing better storage for our research collection, and expanding public access at the 42nd Street Library, the Stephen A. Schwarzman Building.
We recently completed a thorough analysis of all aspects of the plan, and from that we concluded that the costs of construction in the central stacks would be higher than expected and that the work would be more complicated than originally envisioned. On top of that, we realized we needed to create even more public space, because of continued growth in demand for our services and our growing educational programming. 
Because of all this, we began conversations with the City on an alternative plan. It wasn't an easy decision, but it was the right one. As an institution that serves the public, when the facts change, it's imperative to take a look with fresh eyes and see if you can meet your goals in a better way.
Was it Mayor de Blasio's opposition to the plan that sealed the plan's fate? Did he make the city's commitment of $150 million for the library contingent on dropping the plan (whereas in 2012, as you said, the funds were contingent on sticking to it)?
Over the summer, Mayor de Blasio — then Public Advocate — called for a thorough look at the financial risks and urged a re-examination of selling the Mid-Manhattan branch. We agreed with that and, in fact, had already begun a full third-party review of the original plan. Since then we've been in dialogue about how to build and sustain the city's libraries and it is clear that we have a shared vision of how much more the public needs and deserves.
After Norman Foster's initial design for the project was widely criticized, you'd promised to unveil revised plans this past fall. What happened to them?
Norman Foster and his team have been great partners. We said last summer that we would only advance new designs after an analysis of the costs. Unfortunately given what we now know about the costs, we won't be able to pursue those designs for the central stacks. That said, it's important to note that we still plan the most significant renovation in the Schwarzman building's history. Currently, less than 25 percent of the building is open to the public. We're going to dramatically expand public and exhibition space and space for scholars and writers. 
How are those city funds now going to be used? How much, if any, will go toward branch libraries, toward renovating the mid-Manhattan branch, and toward more modest changes at the central library?
The City has kept the $151 million for the original plan in its annual capital budget, but we still need to finalize an agreement with the city. As was the case for the prior plan, we anticipate this will be supported by a combination of public and private funding.  
What do you envision for Mid-Manhattan? What would you say needs to be done there in order to address New York's future demands of a circulating library?
In recent years, our branches have become more than places to check out books or access the internet, although that's still crucial, especially to those who cannot afford to buy books and don't have computer access at home. The branches are now centers for education, with after-school programs, English-language classes, and technology training. Soon, we hope to support universal pre-kindergarten by offering expanded literacy programs, and hosting visits at our branches. 
The Mid-Manhattan Library is the heart of that mission. It's our busiest branch, seeing 1.4 million visits each year (with about half of those patrons coming from the boroughs outside Manhattan). In addition to replacing crumbling infrastructure like the failing HVAC system and elevators, the renovation will create ample, more comfortable space and a range of new rooms for readings, collaborations, and educational programming. MML will also feature one of our largest hubs for adult learning with expanded ESOL classes and technology training, ranging from computer basics to learning Excel to coding classes.   
Larger questions still remain about how to upgrade libraries for a world with fewer printed books and easier home access to information. How are you looking to address these questions in the absence of a grand central-branch renovation?
The last few years have seen enormous shifts in how the world of information [works], and we think our renovation plan meets those needs in new and exciting ways. In addition to the changes at the Mid-Manhattan Library, the plan will open up more of the Schwarzman building, offering significantly more space for scholars and writers, and spaces for entrepreneurs and start-ups. The refurbished library will also offer an education corridor that incorporates a children's library, a teen library, and a teacher-training center so that they too will use the research library. We'll also offer seven-day-a-week access to the great business resources of our Science, Industry and Business Library and double our exhibition space, including a treasures exhibit we hope every school student in New York will visit.   
But we aren't ignoring the books, either. A new, climate-controlled, on-site storage facility [under Bryant Park] will allow us the capacity to safeguard all of the volumes from the central stacks while guaranteeing easy, quick access for researchers. We're particularly proud of that. We're book nerds.
What lessons have you learned from this experience? What would you have done differently throughout the process?
The primary lesson we learned was that as facts on the ground change, it's important for an institution to not stand still, but rather keep asking: Is this still the best course? I want to make sure we're institutionalizing that across every aspect of this organization.
Your tenure at the library has been closely associated with this plan. Does this feel like a professional or personal setback for you? What does it mean for your legacy? 
I'm actually really proud of what the trustees and library leadership have done here. This has obviously been a bit of a rough road. But what was inspiring was how this most recent chapter unfolded. Reviewing all of the data was an obvious step. The rigor of review was intensive for sure. But a good, exciting solution emerged, and once that happened the trustees were unflinching in pursuing that option, and we all feel good about where we ended up. 
I grew up relying on my neighborhood branch in Inwood and later as an academic relied on the research libraries, including the Schomberg Center, and online services.  At bottom, my job is to help the Library grow and thrive for the next generation coming up in the branches, using our research collections and accessing our services. I feel like this decision sets us on the right course for the future. It doesn't have to be any more complicated than that.