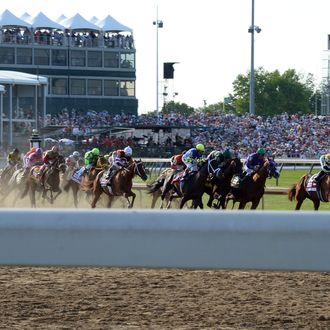 Photo: Theo Wargo/2014 Getty Images
One of the saddest stories of the 2012 election was Mitt Romney's unsuccessful attempt to win over Rupert Murdoch. Ultimately, the nicest thing the 83-year-old owner of Fox News, The Wall Street Journal, and the New York Post could say about the Republican presidential candidate was that Paul Ryan was an "almost perfect choice" for VP. Of the potential Republican 2016 presidential candidates, Rand Paul is the least coy about his presidential ambitions, so it's no surprise that he's already started publicly courting the News Corp. boss by parading him around at Saturday's Kentucky Derby.
Paul and Murdoch have already met at least once, but it didn't sound like their private chat in November was very successful. In an interview with Fortune magazine last month, the media mogul lavished praise on several potential 2016 candidates; he called Jeb Bush a "man of very fine character," said Paul Ryan is "the straightest arrow I've ever met" and "the natural leader," and even predicted Chris Christie "could recover" from Bridgegate. However, he put Paul dead last in his loose ranking of the candidates, describing him as a man "whom I agree with on a great number of things but disagree strongly on some things — too strongly perhaps to vote for him."
According to the New York Times, Murdoch was much kinder to the Kentucky senator during their metaphor-rich trip to the horse races. The pair downplayed their outing as just a casual get-together, with Paul explaining that he "thought it would be fun to have him come down" to his state's biggest annual event. Murdoch said Paul invited him about a month ago, and he responded, "absolutely," since he's never been to the Derby. "It's a good thing for me. He's a very interesting man," he said. Murdoch also remarked, "I'm very open-minded." 
Murdoch praised Paul for endorsing fellow Kentucky Senator Mitch McConnell, calling it "a smart move … for everybody," and the pair bonded over their attempt to use a self-service betting machine. However, there were also signs that Paul still has his work cut out for him. The Times reports that as Paul described his background as an eye doctor in a town of 50,000 people, Murdoch said, "Oh," while "waving his hand without seeming impressed." Then there was this awkward exchange:
Mr. Murdoch asked Kelley Paul if she wanted a drink and then inquired about her three children.
"Do you have children?" she asked.

"Yeah," he said. "But I've been married too often. But I have two boys and four girls."

"You have one son who is involved in the media business?" Mr. Paul asked.

"Two, both of them. They were going to form a team," he said, his voice trailing off. 

Mr. Paul, perhaps more aware of the Shakespearean tension in the Murdoch family than he had let on, asked for some privacy.
Someone should have spent a bit more time consulting his Murdoch-schmoozing flash cards.